There's a lot going on at Elite Sports Club-River Glen these days. Not only is the location soon to be getting a new look, but also, they're adding some new classes to the mix! One in particular caught my attention and after the half hour session, I'm telling everybody about this awesome class. It's called Pound, and if you haven't checked it out yet, it's about time you did!
What is Pound?
Pound is a full body cardio jam session of a workout inspired by drumming. Using Ripstix, lightly weighted drumsticks, different cardio and toning movements involving crunches, squats lunges, jumps, and curls help torch calories and tone while rocking out and "air-drumming" to some pretty incredible music.
Who is Pound for?
Anyone who wants a fun workout, or for those who want to take the stress of a bad day or week out on a pair of drumsticks and a yoga mat. The evening I attended, the class was comprised of all ages and fitness abilities. If you like 80s hair bands, I also recommend you attend, since Warrant and Poison were both on the playlist that evening.
Difficulty: Moderate
As someone who is in decent physical condition, although I am no guru and I've got a ways to go, I found the class to be manageable, but don't let the first 15 minutes fool you. By the time I started to feel comfortable with the rhythms and pace of the class, Nicole led us all on an abs cycle which was quite challenging. But let me reassure you, Nicole encourages each individual to go at their own pace, and is more than happy to demonstrate modifications to meet everybody's level of ability.
My Experience:
This class was probably the most fun-loving class I've attended at Elite. I've known Nicole for almost 5 years, and every time I see her, there is always a smile on her face. Her positive and encouraging spirit makes the class fun and even a bit playful. If you are in any way self conscious about looking cool, get over it. Now. I felt completely ridiculous for the first five minutes. It's hard to take yourself seriously when you're rockin' out to Busta' Rhymes wearing mom yoga pants and a purple tank top. And just when you feel like you've mastered the art of air-drumming, the wall-to-wall mirrors in the studio are right there to remind you, you've got a ways to go before taking the show on the road. Everybody was happy to be there, kind and not afraid to be their authentic selves, which to me is a requirement for a great class experience.
Try a Combo!
Pound is scheduled on Monday and Thursday evenings at 6:00pm and 5:30pm respectively. For those who want to extend their workout and further challenge themselves, Nicole made certain to note that Pound is programmed next to Cycle Surge, also taught by Nicole, on both days. The next time I attend Pound, I look forward to also trying out her spin class to see how each class compliments the other.
---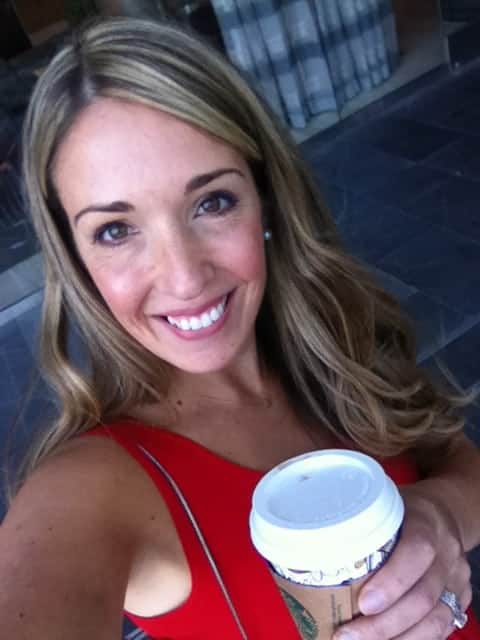 Written by Susan Madden—Member, Mom, and Guest Blog Contributor
Writer, marketer and mom, Susan Madden, has a background working with the Fine Arts in Dallas, TX and Milwaukee, WI. Relatively new to the fitness industry, she enjoys sharing her experiences about the craziness that is parenting and wellness from a novice perspective. She is a native of Whitefish Bay, WI and now resides in Mequon, WI with her husband Mike and children, Samantha and Blake.