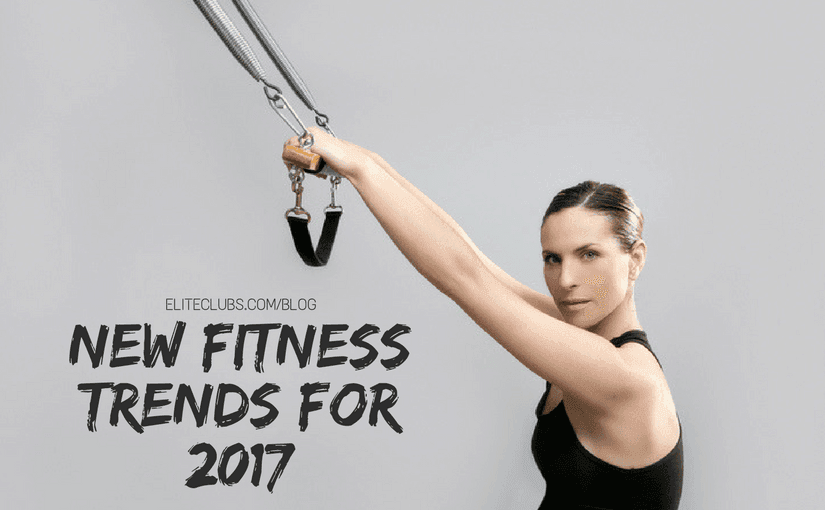 With the New Year just days away, now is the perfect time to talk about the up and coming fitness trends for 2017. This time of year is one of the most common times annually that people set goals. This year, add the goal of trying something NEW to your list and check out some of these fitness trends that are anticipated to hit the world of fitness with a bang!
Pound – Ever notice how drummers are always covered in sweat at the end of a gig? They are getting quite the workout banging on those drums! That's exactly where the inspiration for Pound group fitness classes came from. You will experience an exhilarating, full-body workout with lightly weighted drumsticks called Ripstix. The workout combines cardio and strength training, and also includes yoga and pilates-inspired movements. Instead of just listening to music while you workout, you become part of it.
Live-Stream Classes – The future is here. So long fitness DVDs. 2017 is the year to turn your solo at-home sweat sessions into high-energy fitness classes. You might not be able to find all your favorite workouts on live-stream classes just yet, but we suspect that more and more brands will be jumping on the live-stream wagon in the New Year.
Boxing – With the rise of boxing studios and beginner classes, 2017 will help you reap the benefits of a total body workout without even stepping into the ring. These no-contact, mega empowering classes will help you kick butt, take names, and be on your way to your healthiest year yet.
Mixed Format Classes – Gone are the days of working out on a single piece of equipment or doing one style of exercise for 45-60 minutes. In comes mixed format classes that combine multiple workouts in one class. These classes are optimal for reaching killer calorie burn by combining strength training and cardio all in one.
Dance Cardio – It's no secret that people like to workout in a way that doesn't feel like exercising, and dance cardio classes do just that! There's already dance cardio classes out there, like Zumba and Jazzercise, and many more will hit the fitness scene and catch the attention of anyone who likes their workout to feel like a party. Pole dancing classes, bokwa, barre variations, and more are slated to sweep in and steal hearts in the dance cardio scene next year.
PHIIT – You've heard of HIIT (High-Intensity Interval Training), but for 2017 the spotlight is going to be shining on PHIIT (Pilates High-Intensity Interval Training). You will achieve ultimate overall fitness in this hot workout that combines the toning and core-strengthening workout of pilates with high-intensity cardio.
Aerialand – Wondering how the Cirque du Soleil trapeze artists keep their bodies so fit? There's a new, first of its kind fitness school in the UK, called Aerialand, that helps people train like those performers. From novice to professionals, Aerialand offers some pretty tough workouts that literally puts every muscle in the body to test. The best part is that you have so much fun, you don't even realize you're working out! Added bonus: they have a kids program for tikes aged 6 – 12. It might not be in the U.S. just yet, but perhaps 2017 will bring it our way!
Which one of these fitness trends are you going to ring in the New Year with?