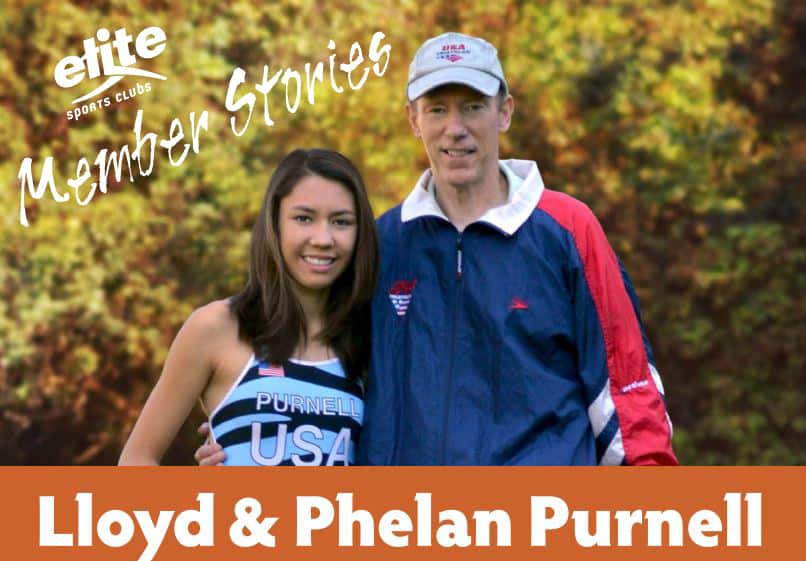 When you look at the accomplishments of father-daughter duo Lloyd and Phelan Purnell, it is evident competition, athleticism, motivation and perseverance run in the family.
Phelan, 15, began her foray into sports and fitness when she was just a few months old. She was enrolled in Elite's swim Parent & Tot class. The rest, as they say, is history.
Throughout her formative years, Phelan honed her skills by taking one-on-one swim lessons with Melissa Mueller, an Elite trainer whom Phelan emphatically calls a role model. Swimming has been a large part of Phelan's childhood, as evidenced by the three years she spent in Elite's swim club and her subsequent decision to join the Lake Country Swim Team.
"It is rewarding to see someone like Phelan be so successful and know that you played a role in helping her get there," says Melissa, who is Elite Sports Club-West Brookfield's fitness director and a personal trainer.
Melissa continues, "Phelan has a tremendous work ethic and is always striving to do the best she can. It was evident in her pool workouts as well as in the stories she would share with me, whether it be about her other training, or school, or whatever else she was involved in. Lloyd and Phelan have a beautiful father-daughter relationship and I'm always exited to hear of their next adventure, be it triathlons, school or their hunting stories."
Starting at age 6, Phelan began expanding her attention toward triathlons – swimming, cycling, and running – and her list of competitive accomplishments are stacking up at a lightning speed pace.
Late this summer, Phelan participated in the USA Triathlon 2013 Age Group National Championships, which was held in Milwaukee. She was one of the top performers in her category (ages 15-19). Because of her success, Phelan will represent the United States as part of the USA age group team competing next August at the World Triathlon Championships in Edmonton, Canada. "I am very excited," Phelan says of the recent recognition. "Even though it's a ways off, I'm excited about next year."
The USA Triathlon was the culmination of a busy – and successful – summer for Phelan. She also took part in the Door County Sprint Triathlon, where out of a field of over 400 women of all ages, she placed 2nd female overall and 1st in her division. Additionally, she ventured to Ohio and competed in the Youth and Junior National Championships, winning the National title in the 15 year old female division.
Phelan typically spends 10 to 12 hours each week at Elite during the triathlon season. She uses club facilities to run, swim and practice her bike riding skills. "Elite is where I got my background as an athlete," she says.
Phelan, a sophomore at Arrowhead High School, is following in the footsteps of her father Lloyd, a former USA triathlon team member and World Championship competitor who has been an Elite member since 1991. Around 7 years ago, about the time Phelan was ramping up her athletic pursuits, Lloyd was diagnosed with Parkinson's disease. While he readily recognizes he is no longer able to compete, Lloyd says he has not stopped all his activities because of Parkinson's.
"It was something that put the kibosh on my triathlon and competitive tennis career," Lloyd says. "But I can still do a mile or so of walking/jogging and some light lifting. I try to stay as mobile and functional as I can. There are a lot of people out there who are worse off than I am."
Lloyd says he still makes it a point to put in three to four workouts each week. Parkinson's patients as they age typically lose their strength, endurance, and mobility much more rapidly than others; as a consequence, people with the condition typically lose muscle mass. Lloyd says he has 50 to 60 percent of his former strength.
At Elite, Lloyd says he is able to create a reasonable workout regimen for his condition. He frequently uses the treadmill to walk/jog at a modest pace. He also uses bike machines, lifts weights and partakes in stretching exercises. From time to time, he will even get out on the court for 20 or 30 minutes of easy hitting.
Like Phelan, Lloyd actively took part in triathlons prior to his diagnosis. He began competitive triathlon events in the late 1970s and was one of the first athletes from Wisconsin to compete in the Ironman World Championships in Hawaii. He also represented the USA in World Championship age group competitions in Italy (1996), Germany (1998) and Australia (2000).
In addition to triathlons, Lloyd was a long-time tennis player. In the past, he played the sport at Elite with guidance from one of Elite's tennis pros, Bob Gressen. Lloyd's tennis accomplishments include numerous USTA state and regional rankings, including
the USTA's Midwest division #1 ranking in men's 45+ doubles and #3 in Wisconsin men's open singles.
Although he is not able to physically train with Phelan because of his condition, Lloyd says he and Phelan's mother Phebe eagerly support her mentally and emotionally by cheering her on and encouraging her in any way possible. Phelan's mother Phebe is a certified doctor of acupuncture and Oriental medicine; so, she provides nutritional guidance, massage, and acupuncture when needed. Lloyd says, "I do miss being able to do some training with her, but I am very grateful for all the blessings our family has received."
When asked about her triathlon future, Phelan offered a ready response. "I look forward to continuing to work to improve and I enjoy the competition," she says. "But it's very friendly. I have a good group of friends. There's just a great triathlon community out there."
Do you think your health & fitness journey is "cover story" worthy? Submit it to us online and you may be nominated as our next cover story!
---
This article originally appeared in the 2013 Fall issue of our "Elite Life" magazine.
By Dave Fidlin of Dave Fidlin Writing & Editing Services, LLC