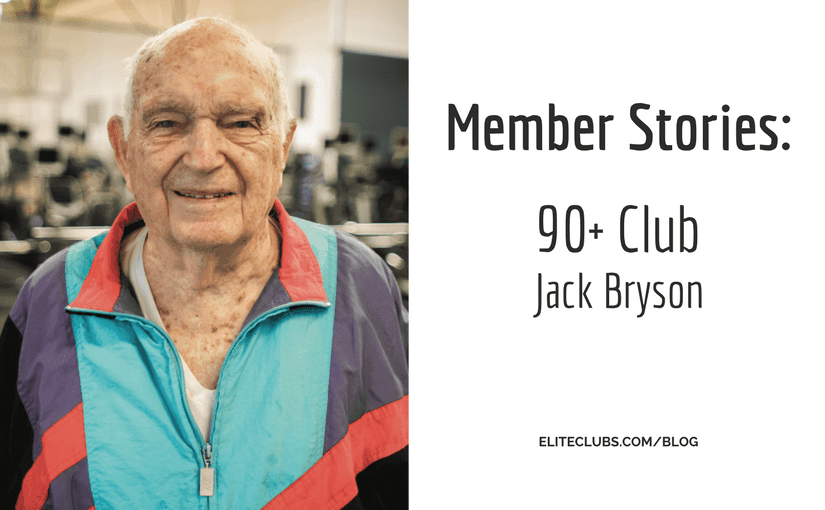 When it comes to living a long life, one can assume that eating healthy and remaining active are the two key ingredients, but after talking to a few of our 90-year-old members, there seems to be a third very important ingredient: having positive relationships. See how Jack Bryson utilizes the clubs and finds a strong sense of community at Elite Sports Clubs.
Since the Beginning
Jack and Elite Sports Clubs go back quite a ways. He joined the club when it was first built and has stuck around ever since. He initially joined Elite for the tennis program and he still enjoys playing tennis. Jack has been runner-up in two of the Elite Sports Clubs grass courts tournaments, but he does not keep track of his wins and losses. Despite not knowing his tennis record, when it comes down to it, Jack likes to win!
Making Exercise a Habit
Typically, Jack makes his way to the club twice a week, but this is dependent on the availability of his tennis-playing friends. All in all, being in a group and working with Elite Sports Clubs trainer Paul Alexander is what keeps him going and consistently coming back to the club. Paul leads him through various exercises having to do with his balance, but Jack's favorite exercise is "staying home," he says jokingly. Regardless of what Jack is doing at the club, he has always had a good experience and likes going to it!
Jack's advice for living a long and happy life: "Exercising. I've played tennis all my life and I'm still hanging in there a little bit."