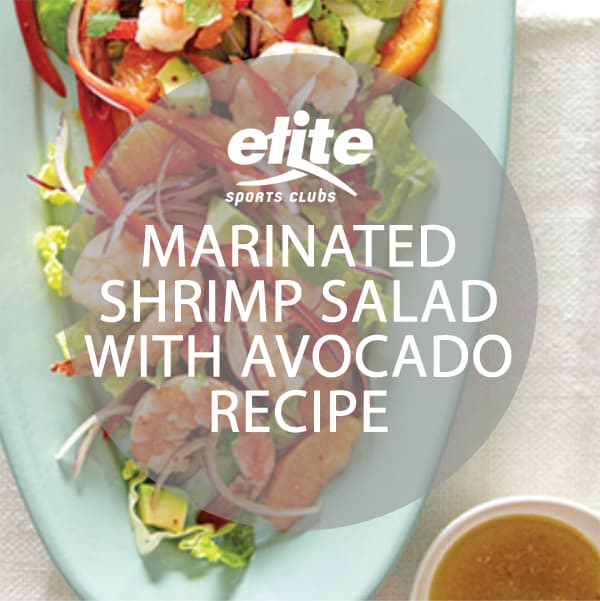 Enjoy shrimp in a salad with this easy, fresh recipe for marinated shrimp salad with avocado. Drizzle with a homemade citrus vinaigrette for a perfect punch of flavor!
Serves: 6, 1 cup portions
Preparation Time: 30 minutes
Ingredients:
1 pound of fresh shrimp
4 navel oranges, sectioned
1 large red bell pepper, thinly sliced
½ small red onion, sliced
½ cup fresh cilantro, chopped
¼ cup fresh mint, chopped
2 cups romaine lettuce, chopped
2 medium avocados, cubed
½ cup Citrus Vinaigrette Dressing
juice of 1 red grapefruit
juice of 1 navel orange
¼ cup cranberry cherry juice
1 tablespoon honey
Preparation:
Combine first six ingredients in large bowl; pour Citrus Vinaigrette over shrimp mixture, and gently toss to combine. Cover and chill 4-24 hours.
Place lettuce on platter. Spoon the shrimp mixture over lettuce, reserving the vinaigrette.
Dress with reserved vinaigrette. Top with avocado.
Calories 78; protein 9.2 g; carbohydrates 19.5 g; fat 5.5 g.
The above recipe is from "Fuel for Life: A Guide to Making Healthy Food Choices" the recipe book given to each of our Team Weight Loss Challenge participants in 2014. It was one of our most popular recipes, so we thought we'd share!
Get more recipes, follow us on Pinterest!
---
By Rita Larsen, RD, CD; Elite Sports Clubs Nutrition Educator & Diet Counselor