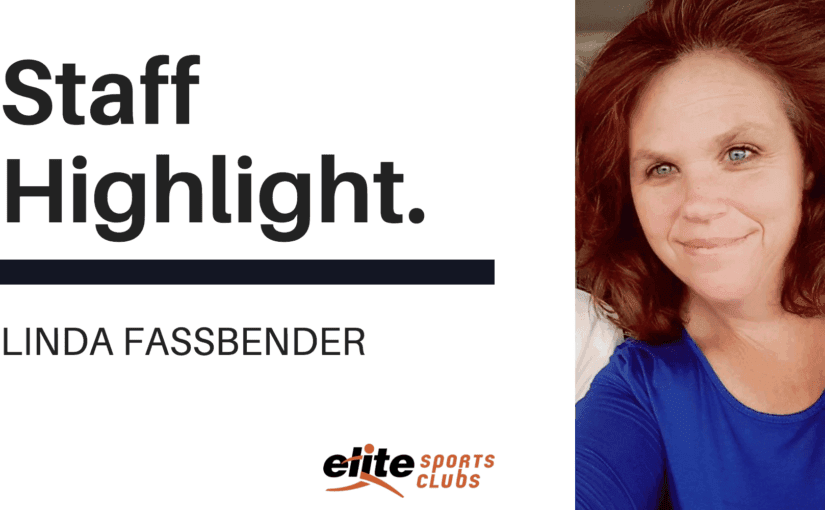 As Elite recently celebrated turning 30, we also want to celebrate our amazing staff, particularly those who dedicate their time to Elite's youngest members. Linda Fassbender has been working at the Elite Sports Club – Brookfield playroom for the past 3 years. Her attentiveness to each child's individual needs and concerns is what makes her shine as a playroom staff member. You may also know her daughter, Melissa, who works at both the Brookfield and North Shore locations. It's obvious that Linda loves kids. She admits that working in the playroom is "something she doesn't have to do, but really wants to do, because I love playing with the kids." Well, the kids love you too, Linda!
Meet Linda Fassbender:
What made you want to work in childcare at Elite? My kids are getting older and i missed the interaction with small children and babies!
What are the highlights of your job? I enjoy playing with the kids and getting to know the families.  I also enjoy working at the kids Birthday parties and those put on by the club.
Tell us about some of the activities in the Playroom that are done on a daily basis. We play tennis, dance, face painting, read books, play kickball. There are a wide variety of activities for the kids based on their age levels and abilities!  It's important to me that all of the kids feel included.
What kinds of activities promote a healthy and active lifestyle? Making sure that kids don't sit and watch TV/video games all day. Get out and walk as a family or ride bikes as a family. Why not do it together?!
What are some common concerns that you find parents new to Elite's playroom have? I think the biggest fear is will their child get attention from us and are there enough people working. We are always fully staffed and I feel as a parent that we do have enough coverage to meet every child's needs. We pay attention to what days are busier and always see to it that enough hands are on deck.
Any advice for parents who are leaving their children for the first time to make for a smoother transition? I would suggest not to linger after drop-off.  Tell your child to have fun and leave quickly. If they see that you are excited for them to play, they will more likely be excited as well!
What is your favorite healthy activity to do in your spare time? I walk with my dog 2-3 times each day!
Tell us about your favorite Elite Playroom or Kids Event memory. I liked the "Trunk or Treat " event. It's where the kids wear their Halloween costume and the employees decorate their trunks and the kids go trick or treating at them. The kids love it! This year we are also bringing back Fright Night at Elite River Glen, which will be in the Quad this year! Also, the Halloween Spooktacular at Elite North Shore is another kid favorite!
---
Do you and your kids know Linda Fassbender? Share your experience in the comments below, or submit your own story to be featured here on the Elite blog!