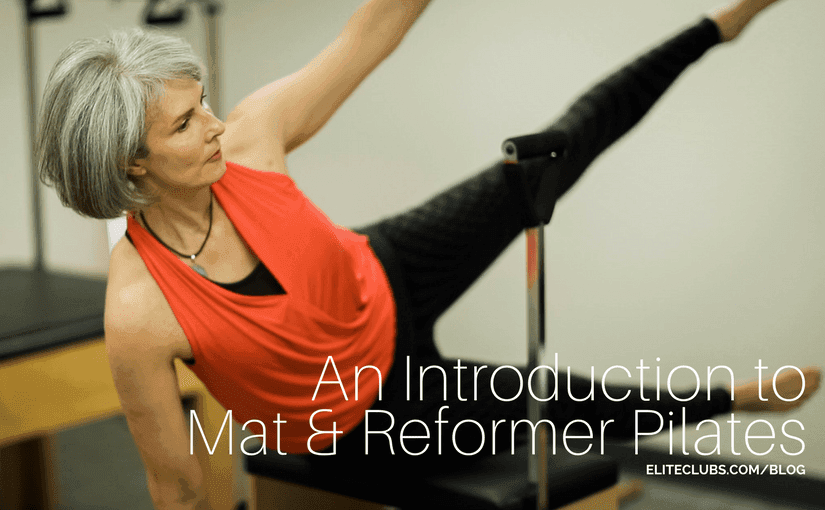 "The Pilates method of body conditioning is complete coordination of body, mind, and spirit." (Joseph Pilates) We're excited to re-introduce mat pilates and reformer pilates training as a part of Elite's Exhale Studios mind/body programming. Here's a quick intro into the two modalities and our offerings here at Elite Sports Clubs.

What is Pilates?
Pilates is a form of exercise, developed by Joseph Pilates, which emphasizes the balanced development of the body through core strength, flexibility, and awareness in order to support efficient, graceful movement.
Why Pilates?
Pilates is an advanced path to strength and endurance, as well as the ultimate mind-body connection. Pilates complements yoga, aerobics, and other forms of exercise. Elite offers the most knowledgeable Pilates instructors in the region specializing in a complete body-conditioning workout for both men and women. Pilates engages you, refreshes you, and leaves you with a sense of well-being.
It offers the benefits of a yoga class and a strength workout combined, promoting muscular harmony and balance.
Benefits of Pilates
Pilates brings core health to all ages by stimulating deep core stabilization, improving total strength, spinal alignment, balance, breathing, and endurance. It's used to rehabilitate injuries and yes, athletes use Pilates to maintain superb physical conditioning.
Pilates is an Adaptable Method
Modification is the key to Pilates exercise success with a variety of populations. All exercises are developed with modifications that can make a workout safe and challenging for a person at any level.
Mat Pilates classes are complimentary with a membership at Elite Sports Clubs. You can view the classes on our group exercise schedule here.
Reformer Pilates
The reformer offers all of the famous benefits of Mat Pilates including overall and core strength, flexibility, better back health, coordination, balance, and more. The reformer is a spring-loaded, pulley-based system that can be adjusted to the client's individual needs. This enables clients to move with confidence and control. Training on the reformer prepares the mind and body for the mat Pilates series of movements.
Reformer Pilates Training is now available at Brookfield and River Glen locations!
Private Reformer Pilates Training:
55 Minute Private Session………………..$75
(5) 55 Minute Private Sessions…………..$300
Intro Package (New clients only):
(3) 55 Minute Sessions…………………….$150
Call to Make an Appointment
River Glen: (414) 352-4900
Brookfield: (262) 786-0880
SaveSaveSaveSaveSaveSave
SaveSave
SaveSave
SaveSave