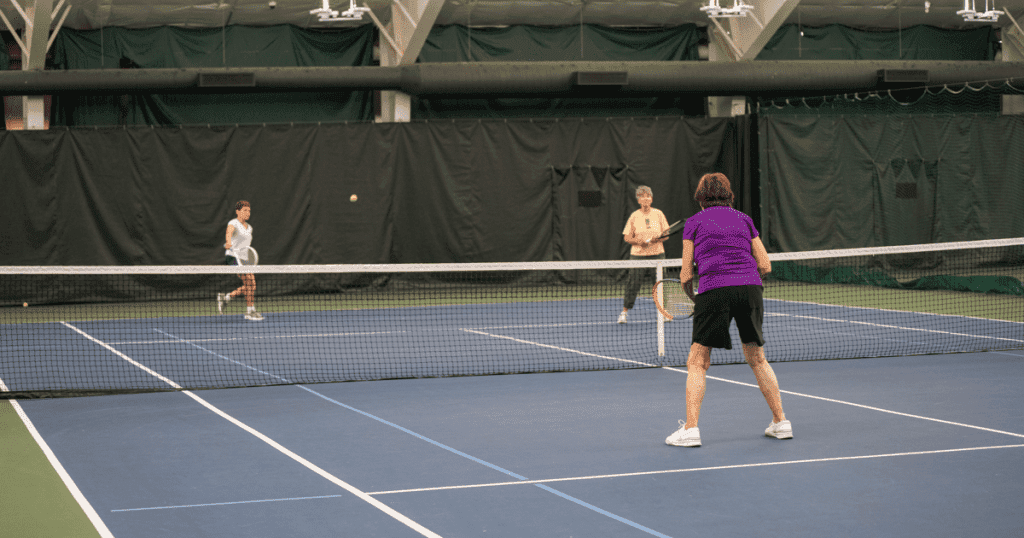 As the weather gets more and more chilly and fall turns into winter, outdoor tennis becomes no longer an option. That's when we welcome indoor tennis season! Elite has the most indoor tennis courts in the greater Milwaukee area and we welcome all tennis players looking to get out of the cold.
Get Out of the Cold
Fighting the elements makes your tennis match less enjoyable. While it might make for some interesting competition for high school or college players, recreational players just want to have an fun time. Being indoors will protect you from the elements like rain, snow, and wind. Therefore, no external factors will affect your shots. Elite's indoor tennis courts in Brookfield, Glendale, and Mequon are all climate-controlled as well, so you can stay comfortable year-round. Lastly, the courts will be free from debris or excessive moisture, which could potentially cause injury. Health clubs professionally maintain and clean their courts on a regular basis so they are always in pristine condition.
Easy to Schedule
Booking court time on indoor tennis courts at Elite is extremely easy. You can log in to the Member Portal and see all available court times at our four locations across the Greater Milwaukee area.
*Please note that some times are reserved for club programs/lessons, socials, high school meets, or other USTA-sanctioned events.
Play With Your Fellow Members
One of the best things about playing on indoor tennis courts at a health club is that you won't have any issues finding an opponent. Elite has a dedicated and passionate tennis community. There are numerous opportunities to meet other like-minded members. We offer tons of different tennis programs and events that allow you to have fun playing, honing your skills, and even enjoying food and drink afterwards. Our flex leagues offer regular match play against opponents of your skill level at times that work in your schedule!
Book a Court Today
Ready to keep playing during indoor tennis season? Lace up your tennis shoes, grab your racquet, and we'll see you out on the court. Book a court time on indoor tennis courts in Brookfield, Mequon, or Glendale today!
Book a Tennis Court