Mountain climbers end up near the top of many people's list of least favorite exercises. They're hard, plain and simple. However, like with most things that are challenging, they can also be really good for you. The goal of this article is to teach you how to do mountain climbers properly, thereby making a difficult exercise a little easier.
The main reason mountain climbers are so hard is because they require a good amount of coordination, flexibility, and strength in a lot of different areas of the body. Your arms and chest need to hold you up so you don't fall on your face, your core needs to be strong and stable so you don't put your back in a compromising position, and your legs need to act like pistons, driving your knees up and then kicking your feet back to land softly on the ground. This is also why they are so good for you. In one exercise, you are working all of the muscles in your body. How's that for efficiency?
If you ask five people to show you how to do mountain climbers, you probably won't see two people doing the same thing. The general idea will be the same, but there will be noticeable differences in their form. Here are a few tips to make sure your form is what it's supposed to be. After all, why make a hard exercise even harder by adding in a ton of unnecessary, wasted motion?
Begin at the top of a push-up in good plank form.

Shift your weight to your hands more than to your feet.

Drive one knee up toward your chest while squeezing your core.

As your first leg returns to it's starting position, drive the other knee to the chest.

Alternate legs back and forth until you are done.

Don't bounce your hips up and down. They should stay relatively steady the whole time.

Remember to breathe the whole time. Don't hold your breath!
If normal mountain climbers are too tough for you to begin with, slow the movement down and don't bring the second knee up to the chest until the first has returned to the starting position. Remember, a slower movement with good form trumps speed with bad form every single time. If you have any pain while doing this exercise, stop right away and consult a trainer. The trainers at Elite Sports Clubs are always happy to help you with your form and answer any questions you might have. Schedule an appointment with one today!
---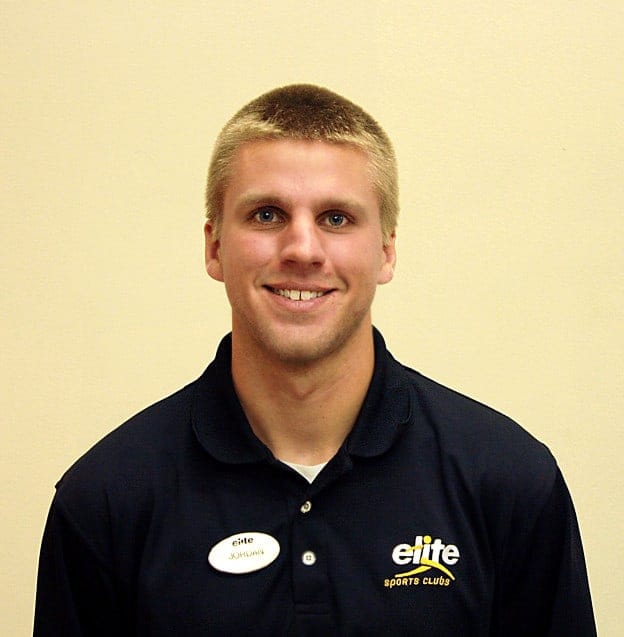 Written by Jordan Meyer, CPT – Certified Personal Trainer & Group Exercise Instructor at Elite Sports Club-North Shore
Jordan Meyer is a personal trainer at the North Shore location of the Elite Sports Clubs. He holds a personal training certification from the American College of Sports Medicine and a BS in Exercise Science and Health promotion from UW-Oshkosh. He specializes in body weight fitness and athletic training, and enjoys working with young athletes who are preparing for a variety of sports. Jordan has had the pleasure of coaching many different sports at a variety of levels, ranging from four year olds who are just learning the basics, to Division 3 men's rugby. He has played organized sports since he was five years old and still plays rugby three seasons a year. In his free time, he enjoys training for and competing in challenge races such as the Tough Mudder and Spartan Race.