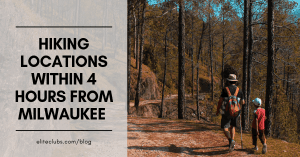 Want to get out of the Milwaukee area this summer? Here is a list of hiking trails within four hours from Milwaukee! All locations are beautiful and within a tolerable drive time for families with children. Hiking improves your mood, relieves stress, increases your energy levels, and offers a great way to stay active outdoors!
Door County
5360 Schauer Rd, Sturgeon Bay, WI 54235
This park features caves, hiking trails, underwater caves, cliffs, and scenic views of Lake Michigan! It also has a great atmosphere and is a great spot for kids to check out.
3275 Clarks Lake Rd, Sturgeon Bay, WI 54235
Whitefish Dunes State Park is an 867-acre state park of Wisconsin, on the eastern shore of the Door Peninsula. This day-use park preserves the most substantial sand dunes on the western shore of Lake Michigan.
475 County Rd NP, Ellison Bay, WI 54210
Newport State Park is a 2,373-acre Wisconsin state park at the tip of Door Peninsula near Ellison Bay, Wisconsin. Protecting 11 miles of shoreline on Lake Michigan, Newport is Wisconsin's only wilderness-designated state park.
9462 Shore Rd, Fish Creek, WI 54212
Peninsula State Park is a 3,776-acre Wisconsin state park with eight miles of Green Bay shoreline in Door County. Additionally, Peninsula is the third-largest state park in Wisconsin and is visited by an estimated one million visitors annually.
Eagle River
Military Rd, Eagle River, WI 54521
Anvil Lake Trail features a large, mature contiguous block of northern hardwood forest with inclusions of hemlock and scattered mature hemlock nearly throughout. Additionally, other natural communities are northern wet forest and soft-water springs. Also, hemlock regeneration is significant. On nearly level topography to hummocky with steep slopes, a large majority of the forest is dominated by sugar maple with sizable stands dominated by white pine, hemlock, red oak, or older aspen.
St Germain, WI 54558
The terrain on the Shannon Lake Trail is gently rolling with a variety of timber types. The loop-around Shannon Lake is especially scenic. Additionally, approximately half of the trail winds through an area that was logged in 1976, 2000, and again in 2010. The remainder meanders through a variety of northern hardwoods. Shannon Trail is a popular location for fat tire biking. No fee or pass is required.
Forest Rd 2178, Eagle River, WI 54521
The Blackjack Springs Wilderness is a 5,800-acre wilderness area northeast of Eagle River, Wisconsin. It is located within the Nicolet unit of the Chequamegon-Nicolet National Forest. Also, it is administered by the US Forest Service.
Eau Claire
5238 S Lowes Creek Rd, Eau Claire, WI 54701
At this park, there are reservable picnic shelters, pit toilets, trout stream, Parcourse Fitness Course, Mountain Bike, dog walking, hiking, and cross-country ski trails. Therefore, this park would be a great location for families to go on a hiking trip and plan a picnic!
Putnam Dr, Eau Claire, WI 54701
This consists of natural, mostly forested land that extends in a long curving, narrow strip through the city of Eau Claire. Forested with southern wet-mesic and northern dry-mesic forest, it contains a diverse flora and fauna including a state-threatened plant. There are also impressive white and red pines that dominate the dry-mesic forest while the wet-mesic forest is dominated by river birch, silver maple, hackberry, red maple, and paper birch.
707 E Tyler Ave, Eau Claire, WI 54701
If you enjoy bicycling, walking, running, in-line skating, cross-country skiing or snowmobiling, then the Chippewa River State Trail is the place for you. The trail is between Eau Claire and Durand in west central Wisconsin. Much of it lies on the bed of the old Milwaukee Road railroad line that was built in 1882. Also, the railroad line was abandoned in 1980 and is now part of the Wisconsin state trails network.  The overall trail is relatively flat and is perfect for all sorts of activity for all age groups.
Minong
Minong, WI 54859
The Wild Rivers State Trail stretches 104 miles through Douglas, Washburn, and Barron counties in northwest Wisconsin. Also, the Wild Rivers State Trail is maintained and managed by each of the three counties it passes through. The area surrounding the Wild Rivers State Trail is rich in natural resources and wildlife habitat. Also, the trail crosses numerous rivers and streams, including the Namakagon River, a federally designated river which is part of the St. Croix National Scenic Riverway.
Rhinelander
5340 Hixon Lake Road
Almon Park is located approximately 5 miles south of Rhinelander on Buck Lake. This 160-acre park consists of a swimming beach, picnic areas and shelters, nature trails, and a disc golf course. Restrooms are located near the beach and at the upper-level picnic area. Changing rooms are also located on the beach. The upper-level picnic area and shelter may be reserved for private functions after Memorial Day through Labor Day (excluding Holidays). Contact the Forestry Department for rental information. The nature trails are open for hiking, skiing, and snowshoeing.
Superior
6294 WI-35, Superior, WI 54880
Pattison State Park is a 1,436-acre Wisconsin state park south of Superior, Wisconsin. Situated on the Black River, the park contains both Big Manitou Falls, the highest waterfall in Wisconsin at 165 feet, and Little Manitou Falls, which is 30 feet.
4279 County Rd U, South Range, WI 54874
Amnicon Falls State Park is a state park of Wisconsin, United States. The 825-acre park is located in South Range, Wisconsin, southeast of the city of Superior. Also, this park features a series of waterfalls on the Amnicon River as it flows around a small island and under a historic covered bridge.
If you have a favorite hiking spot share in the comments below!