Some of you may be familiar with what has become a popular summer past time, stand up paddle boarding, or "SUP" for short. It's a simple concept, stand up on what looks like a surf board, propel yourself forward with a long paddle, and try not to fall off! Well, for those of you who want to take this leisure activity to the next level, challenging your balance and stamina even more, there's "stand up paddle board yoga."
Both SUP boarding and SUP yoga tend to be more popular in this area on inland lakes that are calmer, with minimal to no wake. Nevertheless, the sport originated in Hawaii as an alternative to surfing, which enabled surfers to paddle farther into the ocean, and then evolved to incorporate racing on lakes, rivers, and long distance along the coastline. It's also great for cross training!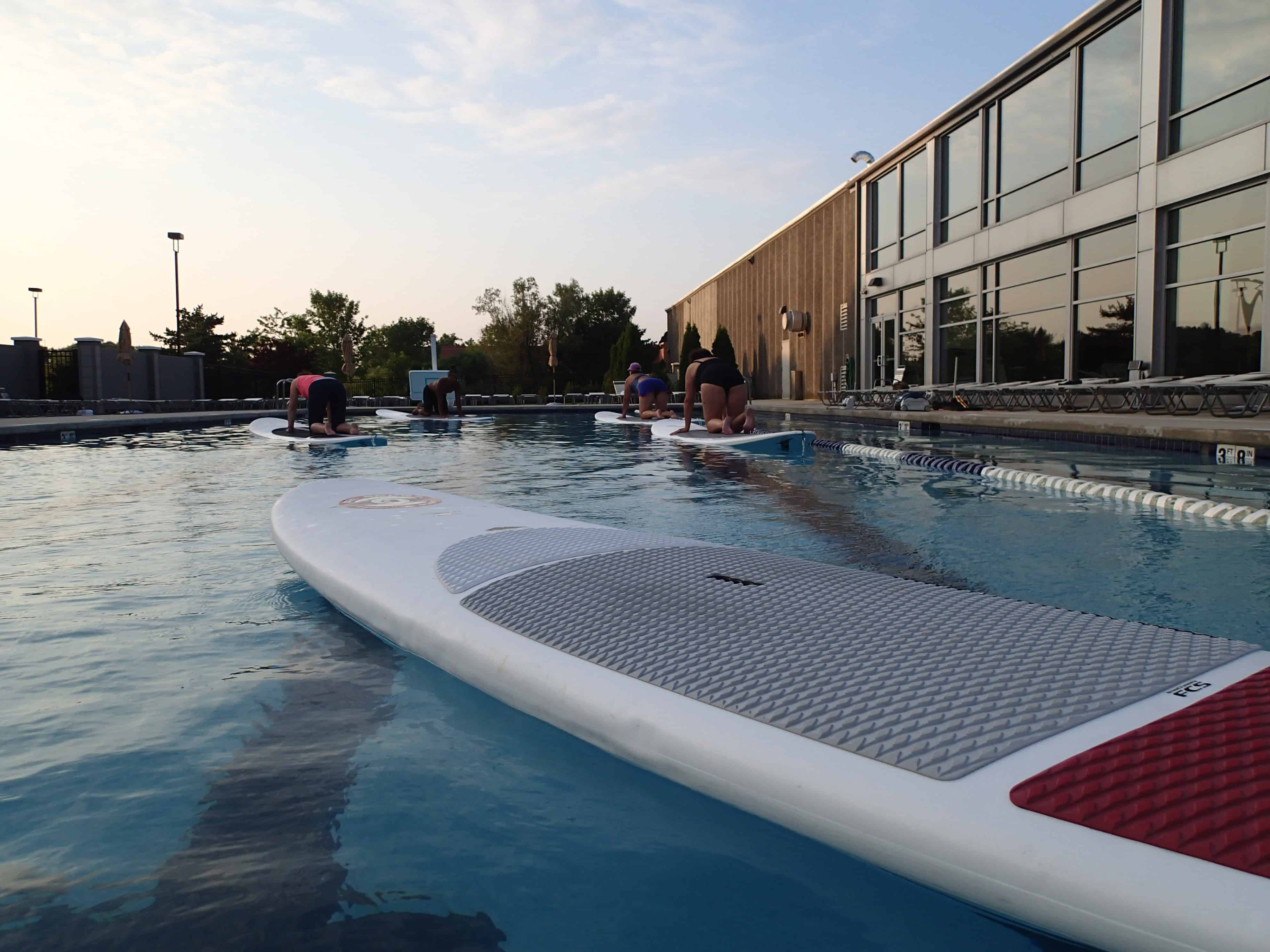 How is a stand up paddle board different than a surf board?
Stand up paddle boards are considerably thicker, wider, and longer than most surf boards. This offers greater stability to stand on the board without having to be propelled forward by a wave as you would surfing, but rather by the paddle instead.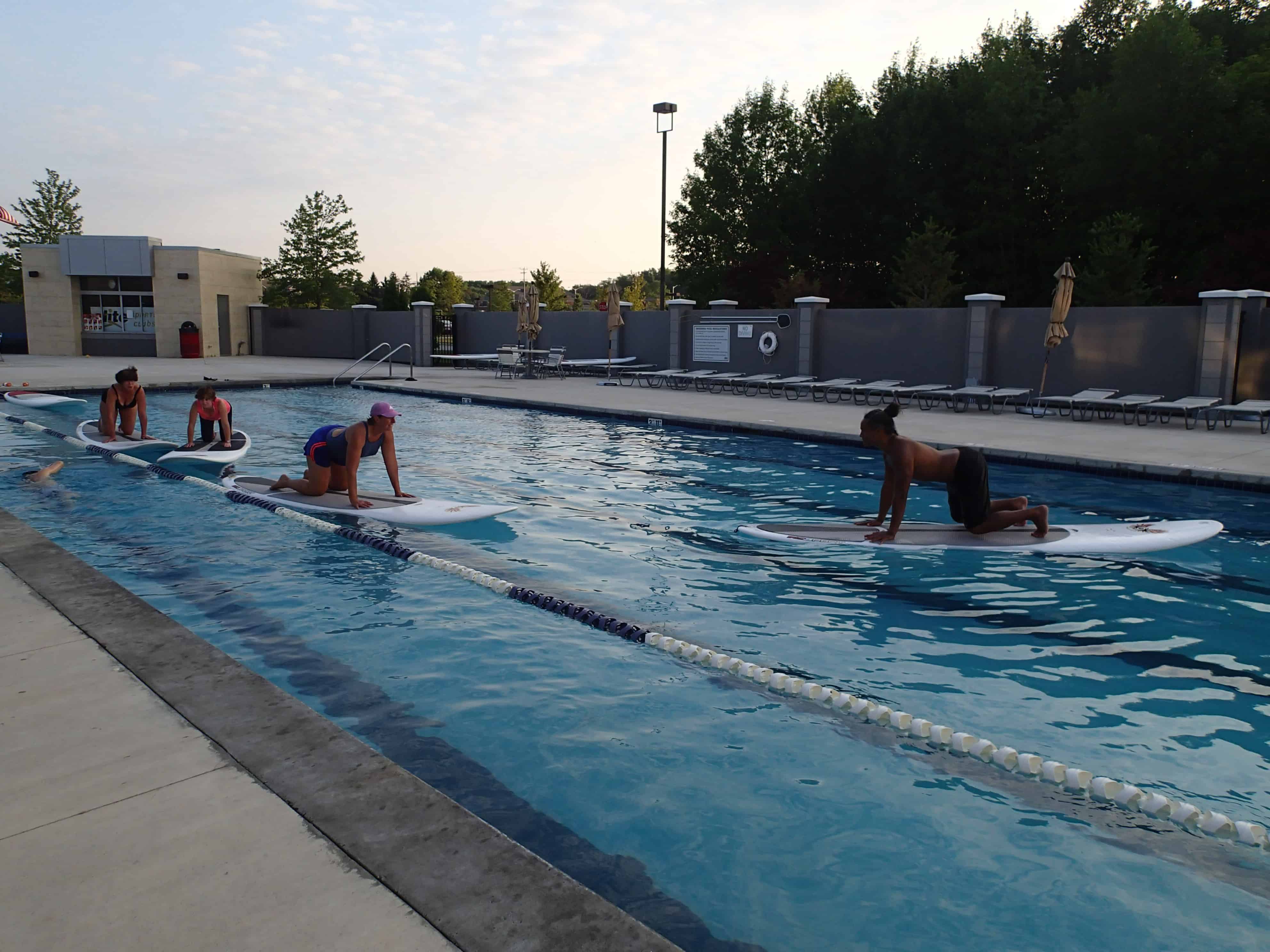 What do I need to know before I hop on one of these things?
Stand up paddle boards come in many different shapes, sizes, and materials. Before running out and buying your own, it's advised that you try one at a local rental shop, or take a class. Depending on air & water temp, you may want to throw on a wet suit too, but most of your time should be spent standing  up on the board, and out of the water. If you are not a strong swimmer, a personal flotation device would be advised as well. During most SUP yoga classes, the board is anchored with a weight to prevent you from floating away from the group.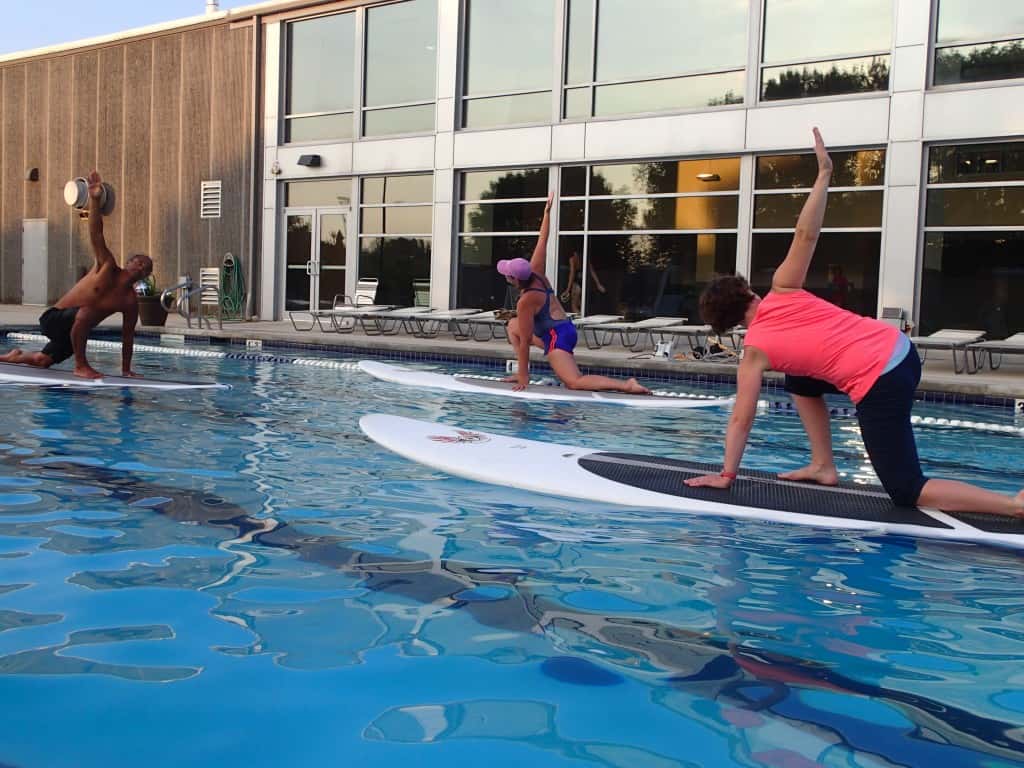 What is a stand up paddle board yoga class like?
From our Aquatics Director at Elite Sports Club-Mequon, who tried the class herself: "I would call it a workout with an adventure component. It was a great challenge. I really had to focus on what I was doing (more than I would in a land yoga class.) I would highly recommend it for someone who wants to try something different and challenge their body in a new way."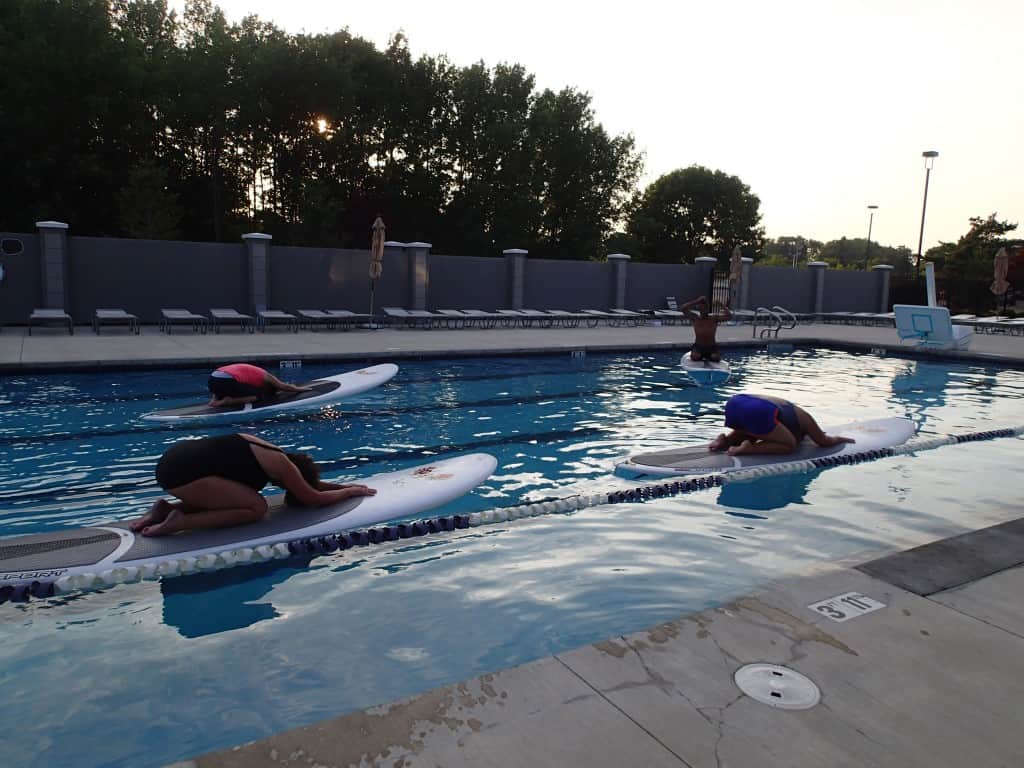 What are the benefits of doing yoga on water, versus on land?
Since the stand up paddle board is not completely stable, you have to engage your core more, constantly balancing during yoga poses that would not traditionally be considered "balance" exercises on land. You will be more attuned to imbalances in your body, the board will "tell you" if you are unknowingly shifting your weight. The sound of water can be calming too, helping you focus on your breath and relaxing. Not to mention water can often be a source of fear for many people. SUP boarding/yoga can actually be the closest you will ever come to walking on water. The whole experience can be very empowering. And then of course the fact that it's something different, and it's fun! SUP yoga can be a great way to cross train or take your yoga practice to the next level.
Looks fun! Where do I sign up?
We tend to offer a stand up paddle board workshop at Elite Sports Club-Mequon in the pool each summer. We have a good relationship with an instructor from Koha Yoga who actually comes out to the club to teach the class for us. They offer their own classes regularly on open water at Pewaukee Lake too. If you and a group of friends are interested in taking a SUP yoga class at any of the Elite Sports Clubs, contact Jessica Heller.