If free weights aren't currently part of your strength training program, they should be! Machines and cables are still necessary to balance out your training program, but free weights offer many benefits to strengthen your arms and other important muscle groups. Let's learn about the benefits of free weights and why they should be a part of your training arsenal.
Benefits of Free Weights
They're Versatile
You can do hundreds of exercises with a pair of dumbbells or a single barbell, where machines usually allow you to perform just one exercise.
The versatility of free weights creates a wide variety of exercises to choose from, and performing a variety of exercises is one key method for improving strength and continuing to see progress in the gym.
More Freedom to Move
You can adjust your limb position and movement patterns easily with free weights. Machines tend to have a fixed motion and limit your start and end positions.
Freedom of motion is beneficial for several reasons. You can:
Adjust the movement to a more comfortable pattern for your specific body type
Change the movement pattern to place emphasis on different areas of a muscle or muscle groups
Increase the range of motion to achieve a fuller contraction and elicit greater gains in muscle strength
Pro Tip: Use your core! Free weight exercises often provide an additional challenge to your core to keep your body stable whereas machines provide stability for you.
Help Improve Imbalances
Strength imbalances between limbs are fairly common, but using dumbbells from time to time can help you understand your strengths and weaknesses so you can improve them.
Because most dumbbell exercises require our limbs to work independently, the stronger of the two limbs won't be able to assist the slightly weaker limb. With free weight exercises, you'll notice right away that it's a challenge to control each limb and stay in proper alignment. After some practice each limb will improve its ability to move independently.
Are You Short on Time?
Try this with a pair of dumbbells:
1. Alternating Lunges
2. Chest Press
3. Single Arm Row
Perform 10 repetitions of each
Rest for 2 minutes
Repeat 2 to 5 rounds
Learn to Use Free Weights!
Fill out the form below to schedule a complimentary session to learn more about free weights, strength training, and what exercises will be best for you! Gain an important tool for your strength training tool box!
Set up a Free Fitness Consultation
---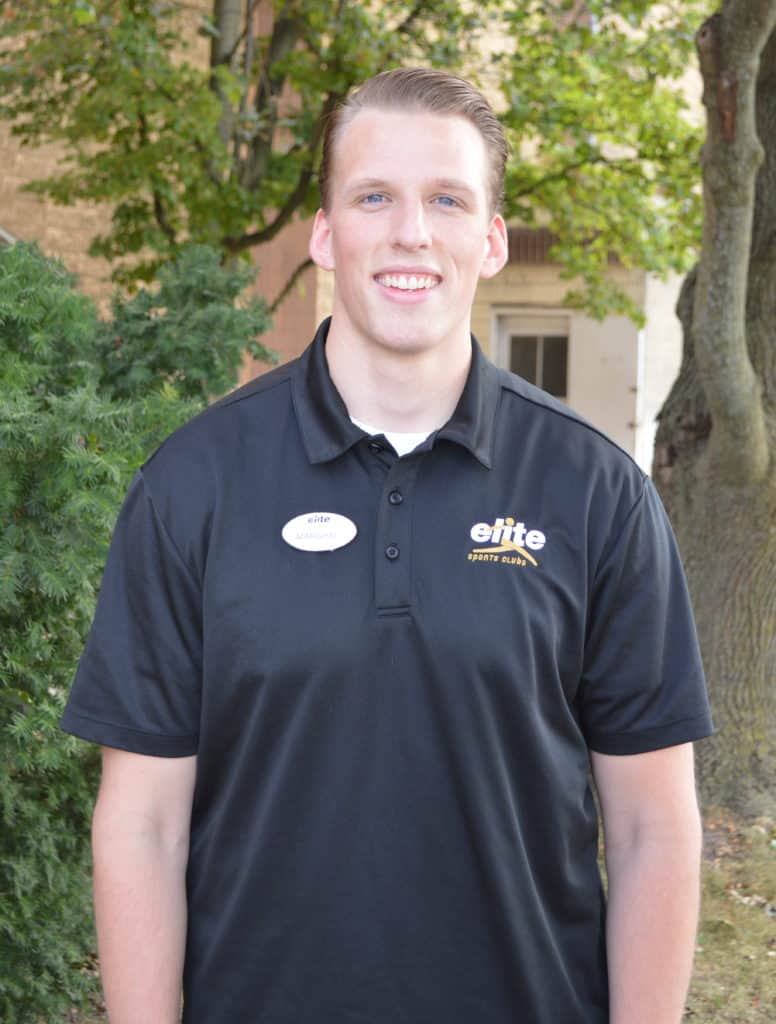 Written by Marshal Stich, Certified Personal Trainer at Elite Sports Club – North Shore and Elite Sports Club – River Glen.
Marshal has a B.S. in Kinesiology and Exercise Science from UW-Milwaukee. He is an American Council on Exercise Certified Personal Trainer and Certified Group Fitness Instructor, and American Sport and Fitness Association Certified Cycling Instructor. He specializes in Body Weight and Boot Camp Style Training, Battle Rope and TRX Training, Fitness and Nutrition Education, Strength and Conditioning, Training for Weight Loss, & Group Exercise. Marshal enjoys camping, hiking, and playing guitar. He lives by the philosophy of "It always seems impossible until it's done" – Nelson Mandela and he believes that becoming a healthier version of yourself is always possible. With a little bit of knowledge and the right amount of hard work, you can reach your health and fitness goals.