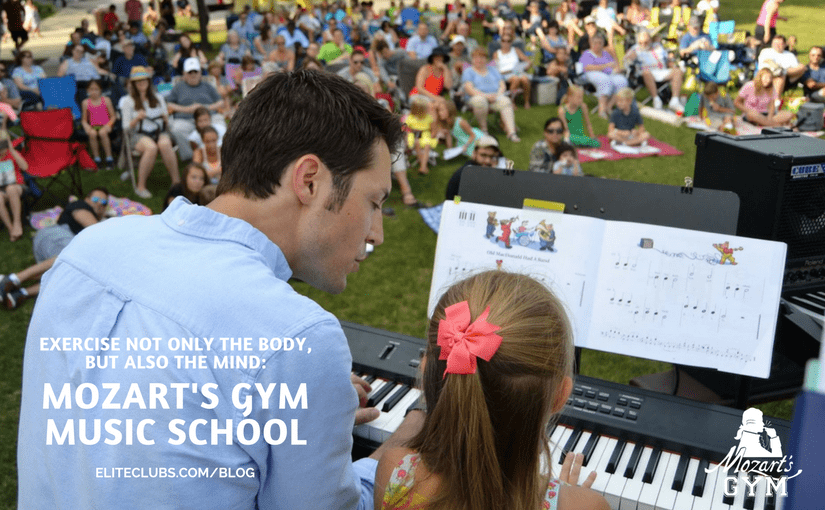 At Elite, we are proud to be able to offer our members state-of-the-art facilities. Our facilities are geared towards the members so they can achieve all of their fitness goals. However, Elite is more than just a fitness club. We aim at becoming an active part of many aspects of our members' lives. A new service that will soon be offered here full-time at Elite is Mozart's Gym – a music school for many different instruments.
Mission: To develop complete musicians. Who have a deep understanding of music and share their music with intelligence, athleticism, and artistry. 
Mozart's Gym: The Complete Musician
The focus of the music school is not simply allowing the student to imitate the teacher. The focus is on synthesizing the complete student. Therefore, the student must become knowledgeable and develop core fundamental skills. This model of instruction allows the student to focus on the 10 elements of musicianship:
Rhythm
Note Reading
Technique
Aural Identification
Artistry
Performance
Creativity
Theory & Structure
Fluency
Awareness
Music School All-Star Program
This program exists to nurture character and success with a positive feedback reward system. The rewards system is based on a score given to the student at the end of the lesson. At the end of the season, if the student receives enough stars from lessons. You receive a star for at least getting an 8 from your teacher for 7 of the 8 lessons in the season.
The reward system is also a way for students to set expectations for themselves and create a competitive mindset. Consequently, this mindset will motivate students to do their best.
Workshops
Another service offered through the music school are workshops. The purpose of the workshops is to bring general awareness to the students about music's practical use in the world. Some of the past workshops include music in movies, music in the military, and classic rock stars. Because of the broad approach to students, it greatly enhances the educational aspect.
Recitals
There are two recitals in the season. The first is the Christmas recital, which is more formal. Then the second is the summer recital where kids are encouraged to play music they enjoy.
---
Elite Sports Clubs is excited to further expand its partnership with Mozart's Gym music school. You will find extensive studio space at both our Brookfield and River Glen locations (between River Hills & Glendale). We invite students of all ages to experience the wonders of learning a musical instrument here at Elite!
Visit mozartsgym.com for more information or to register for the next session of music lessons!
We also would like to invite you to our Summer Jam Concert at Elite Sports Club – Brookfield on August 13th at 3pm. Note the event is outdoors, in the case of rain we may need to move indoors depending on the severity of the weather. Open to the public, everyone is welcome! Please bring your own chair or blanket to sit on.
SaveSave
SaveSave
SaveSave