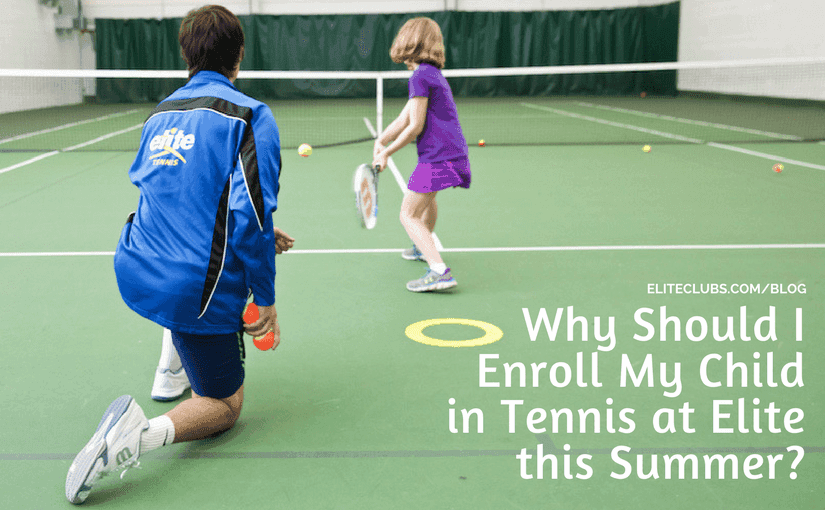 Our tennis director at Elite Sports Club – Brookfield, Mike Dierberger is here to tell you why tennis at Elite could be the right fit for your child this summer!
What can my child learn from tennis at Elite?
Your child can learn a lot from Elite's tennis lesson program. They will learn the proper stroke techniques, correct positioning in singles and doubles, the mental part of the game and how to compete.
Are there life lessons that I can expect my child to learn from playing tennis at Elite?
Tennis teaches kids many life lessons. Tennis teaches kids how to compete since it is an individual sport, where you can not be coached during a match in tournaments. The player needs to figure out ways to deal with situations on their own. Children learn to have different plans and strategies when something isn't working.
Tennis is a mental game—often said to be 80% mental and 20% physical. This is because your mind is constantly thinking/planning before the match, in between points, changeovers and set breaks during a match. If you don't handle yourself in a positive matter, matches can easily slip away. If you don't act with good sportsmanship, you will be penalized by a referee. Tennis is a sport of proper etiquette/discipline; this alone takes time for kids to learn.
Can you break down the basics of Elite's 10 and under tennis program?
Youth tennis at Elite starts with kids as young as 3 years old.
When your child is 7 years old, they can start competing in orange ball progression tournaments.
Once they are 10 years old, they can compete in green ball progression tournaments.
When they are 11, they progress to our junior program and can compete in regular tournaments.
If you want to progress to the next level quicker, you need to accumulate at least 20 "stars". You do this by competing in a progression tournament. Just for signing up and playing you are awarded with 4 stars. If you win the tournament you receive another 4 stars. So, by competing and winning a progression tournament you receive 8 stars. Once you reach 20 you can sign up and compete for the next ball/level.
What are the benefits of breaking down tennis for younger kids versus just putting them on the full size court?
The purpose of having the different balls and different court sizes is to attract kids to the sport. The smaller courts and larger balls help younger kids develop their strokes faster while still having fun. Rallies last longer with red balls, orange balls, and green dot balls. The balls are designed specifically for the correct court and don't bounce as high as regular balls, so the ball stays in the child's strike zone, which helps develop the stroke faster.
Regular balls will bounce high and over the head of many of these younger kids, so they end up not using the proper technique and their strokes never improve. Rallies are over with in 1-2 shots, which isn't fun for anyone or helping either player. With the different progression balls, proper technique can occur, rallies last much longer so the kids are enjoying it more and getting 3-4 times the repetition in a single point so they improve much faster.
It is important to remember not to rush your child along through the progressions. Let them develop their technique and learn how to compete by playing the progression tournaments, so when the time comes to use a regular ball, they will be ahead of the game!
To register for tennis at Elite visit eliteclubs.com/tennis
---
Written by Mike Dierberger; Elite Sports Club – Brookfield Tennis Director
A Milwaukee native, Mike started learning the game of tennis at Elite Clubs when he was only 10 years old. As a junior player, Mike was ranked #1 in Wisconsin since the age of 10, #2 in the Midwest, and #15 in the National rankings. Mike graduated from Nicolet High School in 2006, with a career record of 120-4, playing #1 singles all four years and achieved three consecutive individual singles state championships along with three consecutive team championships. In 2006, he also received the Frank Parker Award for athletic and academic excellence. Mike was recruited to play tennis for UW- Madison as a freshman. During his four years on the team, Madison competed in the NCAA tournament four straight years. In 2010, as a captain of the team, the Badgers reached the Sweet 16 of the NCAA tournament for the first time in the program's history. He then graduated in May 2011, earning an Economics degree. Mike has been employed by the Elite Clubs since the Fall of 2012 and has experience in working with all levels of tennis players.
Get more involved with Tennis!