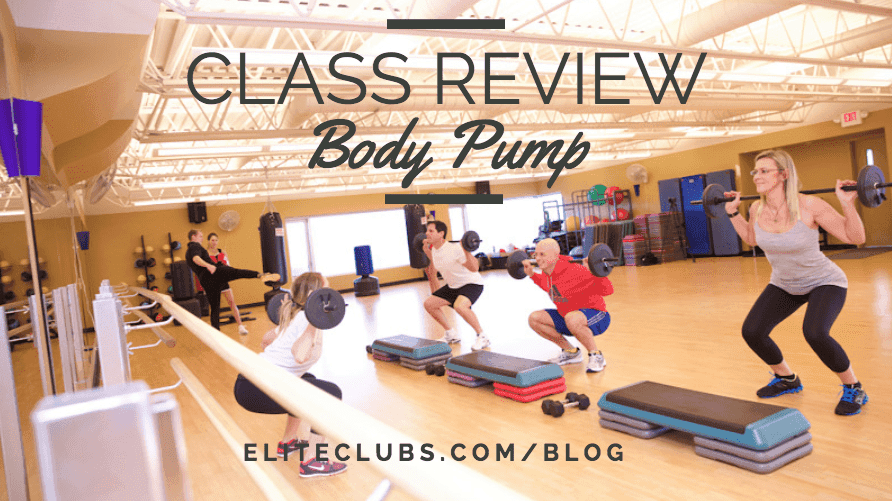 Although I managed to injure myself before class even started (knocking myself in the face with the barbell), I had a great time in Angie's Body Pump class at Elite Sports Club – North Shore!  This was my first ever Body Pump class and although I was initially intimidated by the use of a barbell, regulars to this class (who were beyond friendly) immediately put my nerves at ease by explaining everything to me, from how much weight I should use to how to adjust the weights.
Body Pump is offered at all Elite locations with the exception of River Glen and is part of the LES MILLS™ series.  The idea behind Body Pump is to provide a full-body workout that shapes and tones your entire body while simultaneously increasing core strength. Elite offers both a 30 minute and 60 minute class, but both are designed to get you toned…fast! 
My Les Mills Body Pump Experience:
As I mentioned before, initially I was a bit intimidated by the use of a barbell, even though I consider myself to be in fairly good shape.  If this is your first Body Pump class, I suggest going early to make sure you have all the equipment that you need.
I took it easy and chose weights that were "lighter" than what I usually use.  But I will tell you this:  LES MILLS™ Body Pump is a "1000 track class," meaning, that you will do 1,000 reps, so even though your weight may seem easy at first, just wait 15 minutes.  That feeling won't last long!
Angie, the instructor, was energetic and enthusiastic about the class.  You can tell she was in her element. While the pace of the class didn't allow her the luxury to provide one-on-one tweaking, it was clear she was scanning the class and made easy to follow variations for those who needed more or less of a challenge.  I know she was paying attention, as she noticed I was "babying" my right shoulder.  (And I was!)  She was supportive of my weakness in that area and offered simple suggestions on how to improve my form for the next time I came to class.
Also, this class was extremely friendly, and I don't think that's a quality that is unique to Elite North Shore, as I have never attended a class at any of the Elite locations where the participants were anything but welcoming.  At the end of the 60 minutes, I felt like I got a full-body weight training workout.  While Body Pump is not a cardio centered class, you will feel your heart pumping! Additionally, the movements are simple and very easy to follow.
Who Will Love This Class?
I recommend this class to anyone who is in decent physical condition who is looking to begin or incorporate a weight training regimen to their workout routine.  I will say this:  if you have any issues with your knees or shoulders, I suggest you consult your doctor before jumping into Body Pump.  There are a ton of squats and shoulder work.  Additionally, this class is great for women, as Body Pump promotes bone strength as well.
What to bring to Body Pump:
Just you and a water bottle!
What to wear to Body Pump:
Breathable clothing that isn't too baggy is best for this class.  Because reps vary in speed and you're always moving around, clothing that is too loose may get in the way of the movements of the class.
Takeaways:
I liked this class in that I felt like I was getting in a lot of lifting!   I was definitely sore the next day but not to an uncomfortable extent.  Angie, the instructor, suggests coming to the class twice a week to reap the full benefits of Body Pump.  And because this class is offered so frequently throughout the week at several locations, it makes it easy to get there!
Check your club's group exercise schedule to find a Body Pump class near you!
Set up a Free Fitness Consultation
---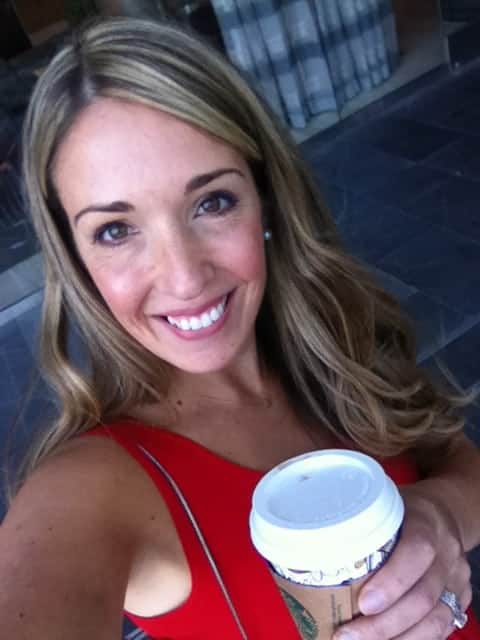 Written by Susan Madden—Member, Mom, and Guest Blog Contributor
Writer, marketer and mom, Susan Madden, has a background working with the Fine Arts in Dallas, TX and Milwaukee, WI. Relatively new to the fitness industry, she enjoys sharing her experiences about the craziness that is parenting and wellness from a novice perspective. She is a native of Whitefish Bay, WI and now resides in Mequon, WI with her husband Mike and children, Samantha and Blake.