Last Saturday, our dietetic intern, Sarah Brunner and I visited with Pam Koch about the new and improved ingredients for the smoothie drinks available at the eCafé at Elite Sports Club – Mequon, as well as the other Elite clubs. We wanted to see for ourselves. Pam, the general manager, made a tasty favorite of hers called the "Dirty Peanut" (now listed as the Chocolate Peanut Butter Smoothie).
We thought that this had a very good taste, but don't take our word for it, try one yourself!
When arriving at Elite, you will want to take the time to look at all the new smoothie combinations and pick out the flavors and ingredients that you will want to try in the future. No two people have the same tastes. Here is the smoothie recipe that Pam recommends. You will be surprised at what she has put together.
Chocolate Peanut Butter Smoothie Recipe
1-scoop powdered fat free Peanut Butter
1-scoop chocolate protein*
1-scoop fiber
1-scoop multi-vitamin combination*
1/2- fresh banana
1-scoop smoothie cream*
1-scoop vegetable boost
1-scoop granola
*You can always add a healthy dose of vitamins in your drink if you have not already taken a multivitamin at home. The smoothie cream is a nutrition product that makes the smoothie creamier without adding dairy, much like a non-dairy creamer. All smoothies are dairy free and can be gluten free (if the granola is omitted). If you don't want the chocolate protein powder you have the option of using the chocolate syrup instead.
A 16-oz size smoothie is rich in fiber, 25% higher in calcium than our previous beverages, high in Iron, vitamins A and D, and all B Complex vitamins. The total calorie content is truly a meal at 300 calories.
It is remarkable that you can get fiber, vitamins, and fruit/vegetables all in the same drink!
Customizing Your Beverage
Your tastes are your tastes, though, so you should spend some time at Elite looking at all the new ingredients that you can choose from. Think about what you could have when you are done with your workout so that you are ready to order! It is only a blender away!
Nutritionally Speaking
My intern, Sarah, and I both agree that the optimal situation would be to have fresh fruit with this smoothie. But, in the interest of time and to have something tasty and good at the moment you want it, this product seems to be a very good substitute.
Fructose, a natural form of fruit sugar, takes on the form of natural fruit as it breaks down in 30-minutes to 90-minutes in the body. It is not table sugar and should not be considered that, as it is still a natural product, especially with the stevia, or natural form of sugar, as the sweetener. We feel that they are both a good alternative to the previous fruit sugar product as well.
When it comes down to it, the smoothies are quick to prepare, easily assembled, and can be customized.
I have to admit that the day we sampled Pam's chocolate peanut butter smoothie, I was very hungry and ready to eat anything as the day had gotten longer and longer. Often, I may stop somewhere on my way home. Instead, I had one of Pam's smoothies and truly felt better in the meantime.
Snack or Meal?
This chocolate peanut butter smoothie could easily be a snack in the 8-oz size, or a full meal, at the 16-24 oz size.
In planning for your day, please keep in mind that anything that is 200 calories or so is really a snack. You can also have a larger size and call it a meal. Easily, this could be your lunch and back to work you go! On this day, rather than falling into my patterns of going into a deli to pick up a variety of foods to eat in my car, I had Pam's Smoothie and it held me until 5:00pm that night!
---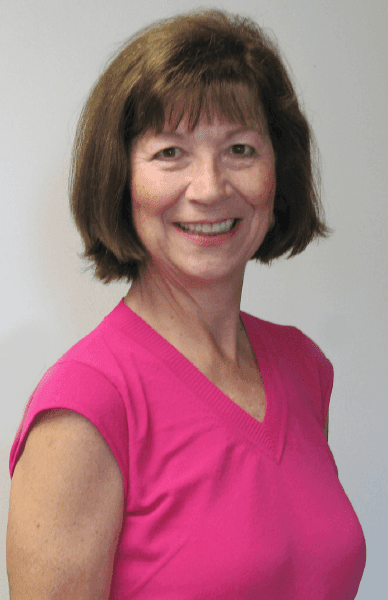 Written by Rita Larsen, RDN, CD; Elite Sports Clubs Nutrition Educator & Diet Counselor
Rita is certified in Positive Psychology, University of Penn; has a BS in Dietetics from Kansas State University; and an Internship and Masters at the Indiana University Medical Center.
Schedule a Nutrition Consultation