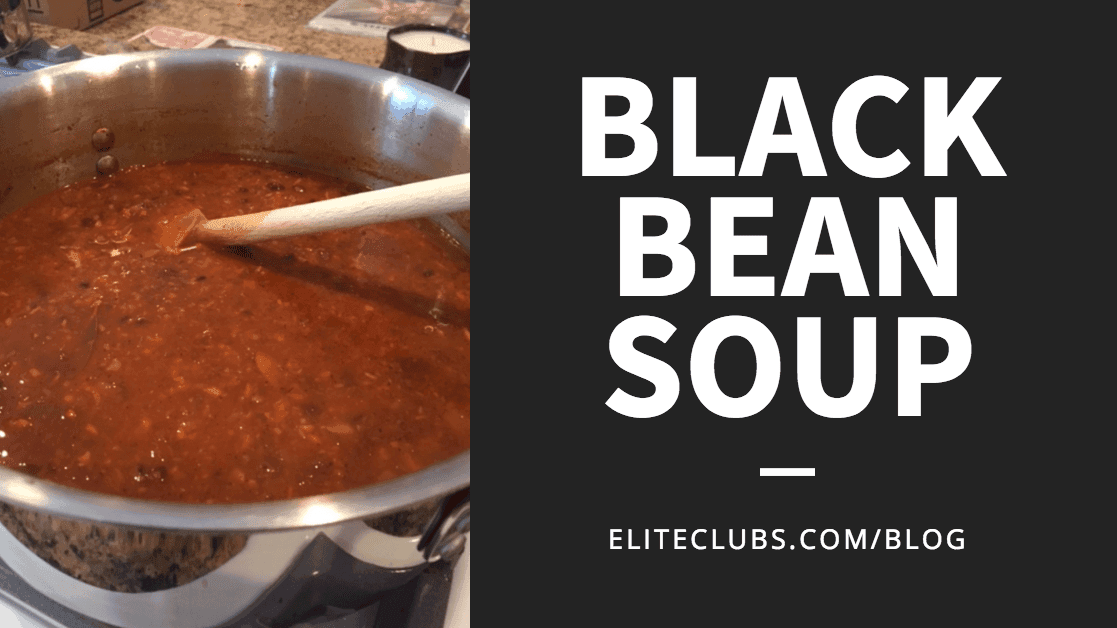 Delicious black bean soup recipe courtesy of an Elite member's kitchen. Using just some basic herbs and spices that most of us will have on hand, you can quickly prep this simple black bean soup and set to cook when you get home from work; it will be ready for your family dinner just an hour later. Which spices and herbs are staples in your kitchen?
Black beans can be used for so much more than your typical mexican-inspired dishes (like this black bean and corn salsa). High in fiber, potassium, folate, vitamin B6, while also low in cholesterol; black beans are considered "heart healthy." The fiber provided by this black bean soup can help lower the cholesterol in your blood stream, therefore decreasing your risk of heart disease.
So, go ahead and give this member-submitted black bean soup recipe a try and let us know what you think! Did you add any of your own "staple" spices or toppings?
Serves 8
Prep Time: 15 minutes
Cooking Time: 1 hour
Ingredients:
2-tsp. Olive Oil
1-small Onion, chopped
3-cloves Garlic, minced
2-tsp. Ground Cumin
2-tsp. Dried Oregano
1-tsp. Chili Powder
2-cans (14 oz. each) Unsalted Vegetable Broth
1-cup Sliced Mushrooms
1-cup Thinly Sliced Fresh Carrots
1-can (8 oz.) Tomato Sauce
1-can (8 oz.) Tomato Paste
2-cans (15 oz.) Black Beans
2-Bay Leaves
2-4 Tbsp. Fresh Lime Juice
Salt and Pepper to Taste
Directions:
Heat oil in Dutch oven over medium heat.
Cook onion and garlic 4-minutes until soft.
Add cumin, oregano, and chili powder.
Then add broth, mushrooms, carrots, tomato sauce, tomato paste, beans and bay leaves.
Bring to a boil; reduce heat, cover and simmer 45 minutes.
Stir in lime juice and simmer 10 more minutes.
Discard bay leaves.
Nutrition Information:
Per serving: 133 calories, 26 g carbohydrate, 7 g protein, 1 g fat, 213 mg sodium, 8 g fiber, calories from fat- 9%.
Get more recipes, follow us on Pinterest!
Have a recipe to share? We'd be happy to feature it on our blog! Just comment below or email it to us at media (at) elite clubs (dot) com.