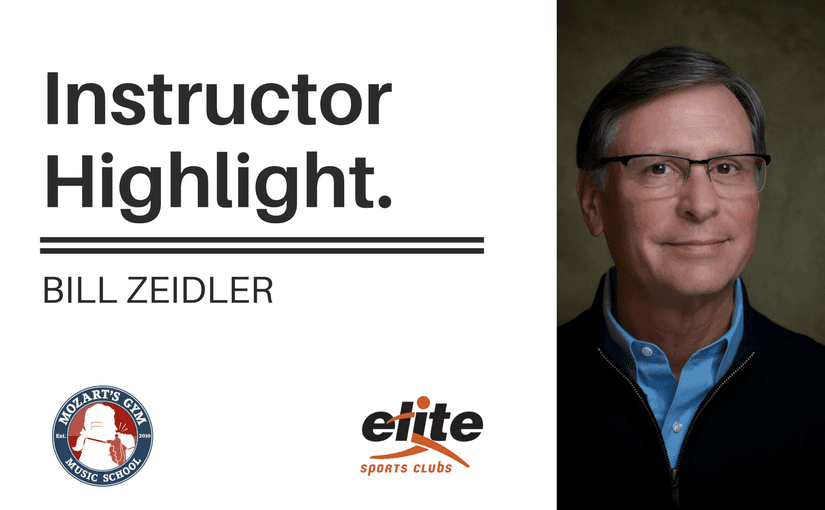 Elite Sports Clubs is now offering full-time music classes at our Brookfield & River Glen locations through Mozart's Gym: an on-site music school where there are many different teachers of many different instruments. Today we'd like to introduce Bill Zeidler, who teaches clarinet and saxophone. 
Meet Bill Zeidler – Music Instructor
What instruments do you teach? – Clarinet and Saxophone
How long have you been teaching and what made you want to start teaching? – I have taught private music lessons for over thirty years. The main reason I started teaching private music lessons was to provide my students with a balanced and flexible music curriculum that is individually tailored to best meet the needs of each student. This approach allows each student to receive the customized instruction they need to maximize their potential as they learn a musical instrument.
Bill Zeidler's Personal Favorites, Learning, and Hobbies
What is your favorite part about teaching music? – My favorite part of teaching private music lessons is seeing the sense of accomplishment that my students have as they systematically tackle the complexities of learning to play a musical instrument.
What is your favorite song or style of music to teach? – I enjoy teaching many styles of music. (Classical, Popular, Jazz, Blues, Rock and Dixieland).
Were you self-taught or did you have a teacher? – I have had a number of great music teachers throughout my life. I also have a Degree in Music with a K-12 Teaching Certification in instrumental music education. Music is an art that allows a person to continue to share the gift of music, learn new things and improve one's technical skills throughout their lifetime.
What else do you enjoy doing during your free time? – Performing and practicing music, golfing, and home improvement projects.
Bill Zeidler's Advice on Lessons and Music
What advice do you give people coming into lessons for the first time? – Learning to play a musical instrument is an activity that can be a very rewarding life journey. However, it will take dedication and hard work on the student's part. I am prepared to be your guide along the way.
What is your greatest challenge when teaching a new student? – Keeping new students motivated to formulate short term goals each week and helping them achieve those goals.
How do you continue to encourage people to continue playing their respective instruments in an era where digital music creations dominate the world? – I suggest that my students attend live musical performances. As a result, they can experience how talented musicians are blending their skills as musicians with the ever changing variety of digital music creation that is available. In addition, the experience of seeing and hearing a group of highly skilled musicians performing live music (Symphony Orchestra, Jazz Group, Rock Band, Concert Band, Marching Band, etc.) is an experience that many people engage in now and will hopefully continue to do so in the future.
Sign up for Music Lessons!
SaveSave
SaveSave