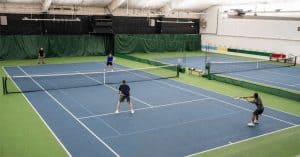 Tennis can be played both indoors and outdoors, making it a year-round sport. It might be tempting to go play on an outdoor court during the warm-weather months, but there are still plenty of reasons to play on indoor tennis courts in Milwaukee even during the spring and summer. Here are some benefits of playing on indoor tennis courts.
Weather
When you play on outdoor tennis courts, you're not just playing against your opponent, you're also playing against the elements. Rain is the obvious showstopper for outdoor tennis as wet tennis courts make for slippery conditions. Also, a wet tennis ball isn't very useful.
Wind also impacts the trajectory of the ball across the court. Depending on how the wind is blowing, one side might have an advantage. High school and college competitions sometimes take place outdoors, and players have to learn how to adapt to environmental conditions. However, recreational players just want to play for fun, and windy conditions can pose as a challenge for consistent rallying. With indoor tennis play, you don't have to worry about unfavorable weather conditions.
Consistent Climate
Many indoor tennis facilities are climate-controlled, making it much more pleasant to play in hot and humid conditions. Playing outdoors on a hot summer day can leave players sweaty and uncomfortable. Direct sunlight can also be a hindrance depending on the time of the day, where sunglasses can only help so much.
The opposite is also true. Not all outdoor tennis facilities have adequate lighting for evening play. Indoor facilities tend to be open later, allowing you to play at all times of the day.
Cleanliness and Facility Upkeep
Upkeep is important for dedicated tennis players. Whether publicly or privately owned, indoor tennis facilities are professionally maintained. Courts and nets are typically well-maintained, cleaned regularly, and surfaces are kept in good playing conditions. Cleanliness especially important during the current pandemic situation.
Outdoor courts are exposed to the elements and may not be maintained as frequently. Cracked or unlevel courts can cause frustration or inconsistent playing conditions.
Reservations and Availability of Courts
Most outdoor tennis courts operate on a first come, first served basis. If you've ever shown up to an outdoor tennis park only to find out all the courts are occupied, you know how frustrating that can be. Indoor tennis facilities operate on a scheduled basis, allowing players to book courts in advance. Therefore, you know exactly what court availability there is when you make a reservation and you don't have to waste time waiting for courts to open up.
Gathering Place to Meet Other Players
Tennis is a social sport. At an indoor facility where they have 6, 8, or even 10 courts, you're far more likely to run into other players. After all, you're all there to play the sport you love so there's a strong likelihood of finding mutual interests in members similar to yourself. Indoor facilities that consist of a large tennis community offer more opportunities to compete against new opponents, giving you more chances of meeting people and making new friends.
Indoor Tennis Courts Near Me
Looking for a place to play? Elite Sports Clubs has 4 locations with dozens of indoor tennis courts. Book your reservation in our online Member Portal!
Book a Tennis Court