Aquatic personal training is becoming very popular as a way of training with lower impact to the joints, yet offering the high intensity of cross-training.  Professional athletes use aquatic training for conditioning, doctors recommend it for injury rehabilitation, and many use it as their primary form of exercise just because it's enjoyable. Let's look at the numerous benefits of aquatic personal training and who might get the most out of it.
The Perfect Complementary Exercise
Aquatic personal training is exactly what it sounds like: personal training but in the water. This training incorporates specialized equipment to enhance the full use of the water's natural resistance and buoyant qualities. Of course, it's up to the individual to determine what best suits their needs, but working out in the water is one of the best forms of exercise because of its numerous benefits.
One of my aquatic personal training clients recently said it well: "Private aquatic personal training is fantastic. The sessions are tailored to my needs and abilities, and are increasingly intensified to meet my personal improvement. I also do 'land' personal training and find that the two are very complementary. I can accomplish more skills with the buoyancy of the water. We work on core, balance, strengthening, endurance, and flexibility. And it is great fun to have the "one on one" with Jessica. She is a real pro. I have many orthopedic issues and am thrilled with how the private attention in the water has helped me. My quality of life is better every day."
Benefits of Aquatic Personal Training
According to WaterART, a company that trains personal trainers on the unique properties of training in the water, an Aquatic Personal Trainer "is unique to a land personal trainer because they understand the dynamics, protection, and program design for water (which is unique to land and gravity training)." Water provides resistance in all planes of motion versus land training. Buoyancy is also a unique property, as opposed to working against gravity.
Here are some of the benefits of training in the water:
Reduced weight-bearing allows participants to do some movements that they may not be able to do on land.
Extra feeling of security due to less fear of falling or being injured.
Water provides greater freedom of movement and multi-planar resistance.
Hydrostatic pressure from water reduces swelling and allows higher intensity exercise, without taxing the cardiovascular system as much as land exercise.
Water increases the blood and oxygen supply to the muscles.
The amount of weight-bearing of the body can easily be adjusted just by changing the depth of the water the participant is in.
Water exercise can easily match, if not surpass, the benefits of land training, if the same amount of effort is put into both programs. Many participants experience greater improvements with less discomfort in water than on land.
Who Should Try Aquatic Personal Training?
I've worked with many clients in the water over the years. These are some of the types of clients who benefit from aquatic personal training:
Pre- and post-rehabilitation of an injury or surgery, including hip and knee reconstruction or replacement
Neuromusculoskeletal disorders, including cerebral palsy, limb length inequalities, Parkinson's disease, and multiple sclerosis
Overweight/obese clients, where land exercise is too painful for the joints
Varying forms of arthritis
Athletes needing cross-training
Former competitive athletes needing a more joint-friendly form of exercise
Anyone that loves to swim!
Member Testimonials
The father of a pediatric client who does a combination of aquatic personal training and swim lessons recently noted, "Our daughter has been taking private coaching lessons at Elite for the past 3 years. Along with learning the fundamentals of swimming, she is gaining personal confidence and a love for the sport. The coaches at Elite have played an integral role in the physical development and strength training of our daughter after multiple surgeries."
Another post-surgical adult client said, "Our private training sessions are attuned to my needs and tailored to my improvement.  I have fun, and the time flies!"
If you are looking to push your workout to a new level, find a new way of conditioning your body, or have rehabilitation goals, consider working with an aquatic personal trainer.  Your workouts will transform into something new, and you will achieve lasting results.
Sign Up for Aquatic Personal Training!
---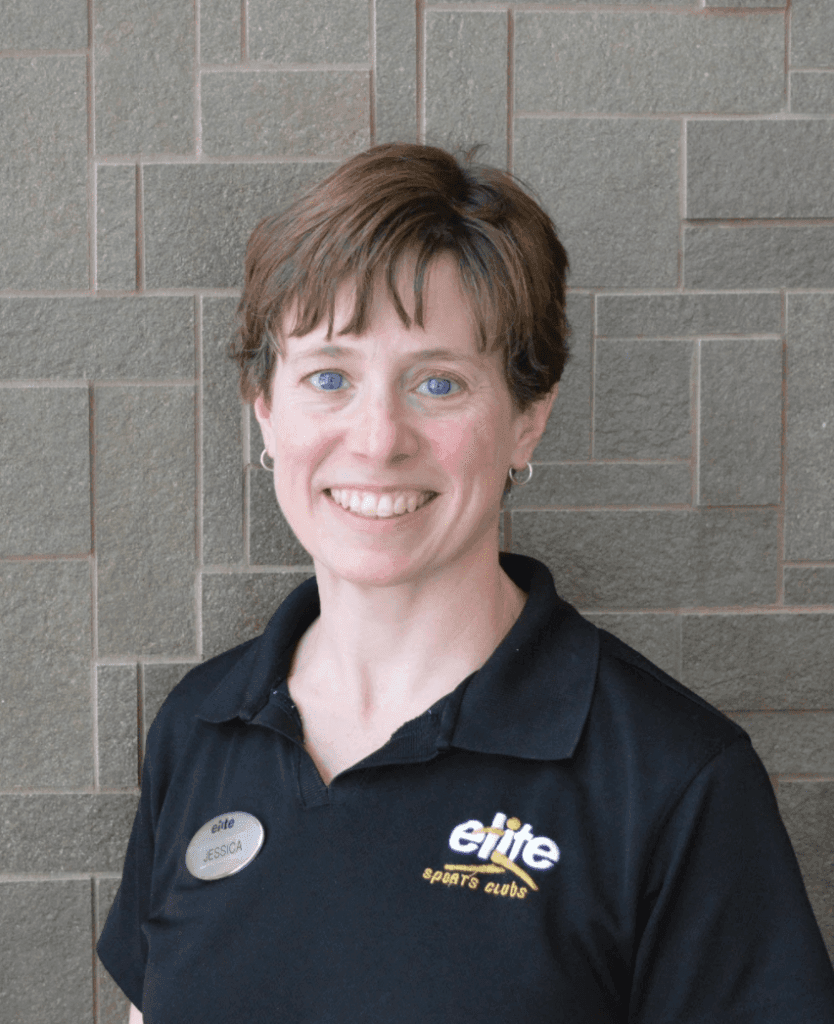 Written by Jessica Heller, Aquatics Director at Elite Sports Club-Mequon
Jessica Heller has a B.S. in Biological Sciences, minor in Spanish (UW-Milwaukee, 1999), Doctor of Chiropractic (Northwestern Health Sciences University, 2002), and post-graduate continuing education focused mostly on rehabilitative exercise, sports injuries, and nutrition. She is a certified Water Safety Instructor (since 1996), Lifeguard/CPR/First Aid Instructor (since 2010), Red Cross Babysitting Instructor (since 2015), Certified Pool Operator (since 2013), Certified Strength and Conditioning Specialist (since 2006), Aquatic Exercise Association Aquatic Fitness Professional (since 2008), and Arthritis Foundation Aquatics Program Instructor (since 2011).
SaveSaveSaveSaveSaveSave
SaveSave