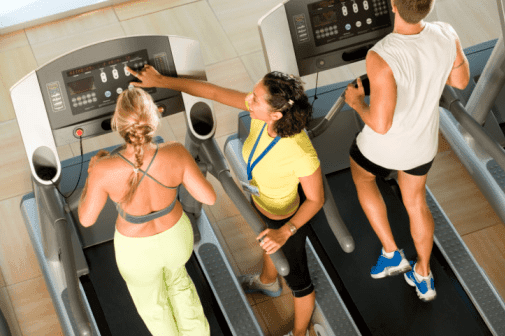 If you've never been to a health club before, it can be a pretty daunting experience. It is completely normal to feel a bit of anxiety – and mistakes are expected.
This post will be a guide to any beginner who is looking to get the most out of their club experience!
---
Pack a bag.
Packing a proper gym bag will make you feel a lot more at ease knowing you have everything you will need. Make sure to pack the following:
A water bottle (if you forget you can always purchase one at the gym as well)
Proper shoes that are comfortable and suitable for exercise
Toiletries for after your workout – shampoo, conditioner, deodorant, and flip flops for in the shower/sauna
Your fitness tracker
Headphones/earbuds for watching TV or listening to music
The proper clothes – avoid this gym apparel!
---
Take a tour.
This is the best way to learn how your club operates and all of the amenities that are at your disposal. The club staff conducts tours and this is how you will learn what classes are available, where everything is located in the building, general rules and guidelines, and they can even demonstrate how to use some of the equipment.
Schedule a Tour
---
Get a fitness assessment.
When you join Elite Sports Clubs, you will receive a  FREE health and fitness consultation! This assessment is what your personal trainer uses to determine your current level of fitness and discuss your personal goals with you.
Set up a Free Fitness Consultation
---
Try the classes.
Group classes are a great way to make you feel more comfortable and a part of the club. You will meet a lot of great people and get a great workout. Hey, you might even find your next workout buddy!
Note: Show up a little early to your first class and introduce yourself to the instructor. You can also use this time to ask any questions you have about the class. They will be more than happy to help!
---
Don't be intimidated by the weights.
Lifting weights should be a part of everyone's fitness routine.
It's important to remember that everyone in the gym was a newbie at one point. They gained confidence and learned proper form through experience and guidance. Start out by lifting lighter weight and concentrate on your form. As you start becoming more comfortable and gaining strength, increase your weight and try more complex movements.
Don't be afraid to ask a trainer, staff member, or other gym member for help. Having someone there as a spot is great for safety and motivation.
---
Be Courteous.
There are some unspoken rules when it comes to working out at a health club. Here are some things you need to remember to be courteous to your fellow club members:
Wipe down the bench/equipment after use
Re-rack your weights and put back any equipment you use
Use headphones/ear buds when listening to music
Refrain from using derogatory and inappropriate language
Don't sit on your phone while on the floor
Do not hog equipment or interrupt others mid-set
Keep personal items in the locker room and do not pile them up by your machine or workout station
Do not use cell phones in locker rooms. People are changing and showering, it can make them feel very uncomfortable
---
Parents – know your options.

Elite Sports Clubs are all about strengthening happy and healthy families. We understand that your lives are hectic. Balancing everything with little-ones can make things even more difficult.
At Elite, your family membership includes childcare! This means you can complete your workouts with complete confidence that your children are safe and being taken care of.
We also provide kid's activity programs, summer camps, tennis lessons, swim lessons, dance lessons and more!
---
Stay up-to-date and get involved. 
Make sure to follow Elite Sports Clubs on all social media, sign up for newsletters, follow our blog, and participate in social events.
The best way to feel comfortable is to stay up-to-date on what's going on in the club and joining in on the fun!
---
Yes, joining a health club is an investment. And it's a great step towards improving your own, as well as your family's health and wellness. So, it's important to educate yourself as much as you can, and get the most out of your Elite experience.
Also know you can always ask questions. Ask a trainer or staff member about using a piece of equipment, gym policies, amenities, childcare, or anything else you want to know more about!
Don't put off your health and wellness any longer- get in the gym and get started, today!
Get Started! Tell us about your goals!