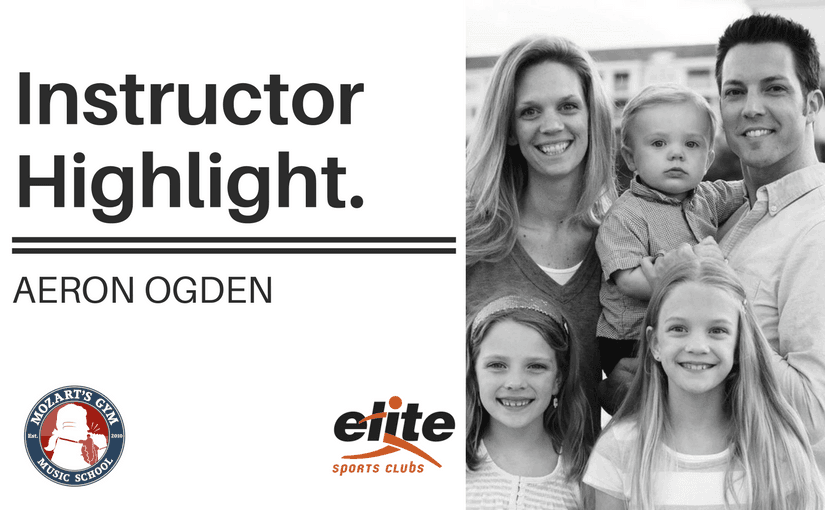 Elite Sports Clubs offers full-time music classes at our Brookfield & River Glen locations through Mozart's Gym: an on-site music school where there are many different teachers of many different instruments. Today we'd like to introduce Aeron Ogden, the founder of Mozart's Gym and piano instructor. 
Meet Music Instructor – Aeron Ogden
What instruments do you teach?
Piano. I started 23 years ago when I was 16 and still living at home with my parents. Sometimes I had some students I would travel to teach (in their homes) and also a music room at home with a digital piano I saved up to buy (working at a piano store!). I also teach Music Theory & Composition, which is what I studied for my graduate program (and I love it!).
What made you want to start teaching music?
Both of my parents were musicians. My mom was a pianist and my dad sang lead roles in musicals during his college years and led music at our church. I grew up with four brothers and two sisters and now have thirteen (yes, thirteen) step-siblings. Many of them are also musicians. You can imagine that our house was never silent! I also had some great teachers and became fascinated with the piano, music history, composition…all of it. And then I became incredibly curious about the process where someone goes from complete beginner to highly-skilled musician and have been consumed with that pursuit ever since. Actually, by the time I was 14, I knew I wanted to develop and direct a music school someday.
Aaron Ogden's Musical Style
What impact did your teachers have on you in music and in life?
I would say that I learned valuable lessons, but something different, from each. The teacher I had during high school had a strong commitment to fundamentals, comprehensive musical learning and experience, and very high standards. I owe a lot of my educational philosophy, and the design of the entire Mozart's Gym program, to her. She also took an interest in developing my love and skill in composition and introduced me to competitions and other opportunities.
One of my professors (who also had my mom as a piano student when she was in college!) I would credit with developing my technique and musicianship. She was brilliant and efficient and regal and came from quite the pedigree in her own education. But she was also full of love, in her own way, and would give me bottles of B6 or B12 vitamins and a gentle chiding if she thought I looked a little tired and unhealthy. My composition mentor in grad school really broadened my perspective and taught me to look at music from every angle. I'd also have to mention a baseball coach I had as a child who inspired in me a passion for accomplishing things seemingly beyond personal ability through effort, attention and the right attitude.
What is your favorite thing about teaching music?
I get to work with students over the course of several years and see them develop and mature, not just musically, but also in character, poise, work ethic, interests… it's incredibly rewarding. And to be able to play a part in that feels like such a gift. I am humbled and grateful that this is the work I get to do every day. Of course, it's very hard to see them go. I have two long-time students heading off to college this fall, one of whom started with me in piano lessons when she was in kindergarten. But I have to remember that as a teacher, this was always the goal. As they say, "Ships are safer in the harbor, but that's not what ships are for."
Do you have some favorite songs, musicians or styles of music?
People will tell me they have eclectic tastes, but this might sound bizarre: I like opera, Weezer and other 90s-era alternative bands, Dixieland, Chopin and Schubert, Mozart (of course), Top 40 radio music (Avicii, Coldplay, Bieber, Gaga), Palestrina's renaissance choral music, Jack Johnson, film scores from all eras of movie history, Tim McGraw… might be easier to provide a list of music I don't enjoy. It's a very small list.
Aaron Ogden's Words of Wisdom
What advice do have for anyone starting lessons for the first time?
There's no magic involved, and contrary to mass public opinion, no talent needed. Quite simply, you reap what you sow. That's great news! Learning to play an instrument involves five things: Mindset, Environment, Resources, Instruction, and Practice. It's important that you start with the belief and expectation that you will be able to do it. Then it helps to have support from parents (or an accountability partner) and a practice space at home conducive to focused and inspired practice.
You'll need a sufficient instrument- for piano that means 88 keys, hammer-action (no Radio Shack "keyboards"), all parts working- and readily available tools like a metronome and CD/MP3 player + speaker for playing accompaniment tracks. The instruction should be delivered by a highly-trained teacher using the best curriculum. Lastly, and most significant of all, you have to set aside time, at least five or six days a week, to learn this new "language" and develop the physical techniques to make it happen. Then you become a musician!
What is your greatest challenge in working with students?
It's very hard to overcome the mindset that musical ability is an inborn talent. I think people would be surprised at how effectively destructive to learning that perspective really is. And then I would say that getting students to practice, and more importantly to practice effectively, is very difficult. For the students who are faithful early on and develop the right habits, music becomes highly enjoyable and practice is no longer a chore. Every day brings results, and that is motivating and rewarding.
Aeron Ogden's Hobbies
What else do you enjoy doing in your free time?
I have a wonderful family- wife Kate, daughters Avery (11) and Tess (10), and a son, Finn (3). We enjoy board games and card games and backyard games of baseball, soccer and football, bike rides, and of course family vacations. We go down to Florida where I grew up, or up north to the family cabin. I'm also an MLB and NFL fan. I root for the Brewers and I'll cheer for the Packers… unless they're playing the Redskins!
---
Sign up for Music Lessons!