Guidelines for Healthy Eating and Snacking on a Daily Basis
Whether the kids are headed off to school or you are brown bagging it to work, many of us prepare and pack our own snacks and lunches every day. Use the tips below to help you be mindful of your food choices not just during lunch, but all day long!
Not all foods are created equal! Pick out foods that are best for your normal day, every day.
Plan to emphasize what is most important in your diet. For example, high quality protein, fiber, and fulfilling daily fruit/vegetable requirements.
Make a schedule for yourself and include times, places, and content of what you will be eating for the day to hold yourself accountable.

10:00am Snack: Fruit
Noon Lunch: Entree, salad, milk (school lunch)
3:00pm Snack: Popcorn
Also have an idea of what your night time dinner will be like and what time you plan to eat (so the whole family can attend & you can give yourself enough time to prepare)

Drink plenty of fluids, including water throughout the day.
Be aware of the salt content of most snack foods.
Make comparisons of packaged food items–making sure you have selected the best in terms of calories, salt, and fats.
Remember, too many calories and fats can lead to feeling sluggish and tired in the afternoon.
Keep your eye on the caffeine in beverages–too much soda or caffeinated beverages cause you to feel jittery later in the day and actually take away from your energy base.
Choose foods that provide the most energy throughout the day.

Whole Wheat Toast vs. Sweet Roll
Baked Potato vs. French Fries
Fruited Yogurt vs. Chocolate Cake
Try including the following recipe in your next bag lunch as a snack with tortilla chips or compliment to your entree (such as a chicken breast or fish).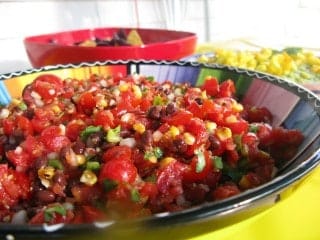 Quick & Easy Black Bean Salsa
1-15oz. can Black Beans
1-11oz. can Shoepeg Corn
1-16oz. jar Salsa with Cilantro
1 medium Red Pepper, chopped
1 bunch Green Scallions, chopped
Lemon juice, cumin, and minced garlic to taste.
Mix all ingredients. Best if prepared the day before.
1/3 cup = 75 calories
Looking for more nutrition advice or other snack and lunch recipe ideas? We offer plenty of ongoing group & private programs with Elite's own Registered Dietitian.
---
By Rita Larsen, Elite Sports Clubs Registered Dietitian & Nutrition Counselor