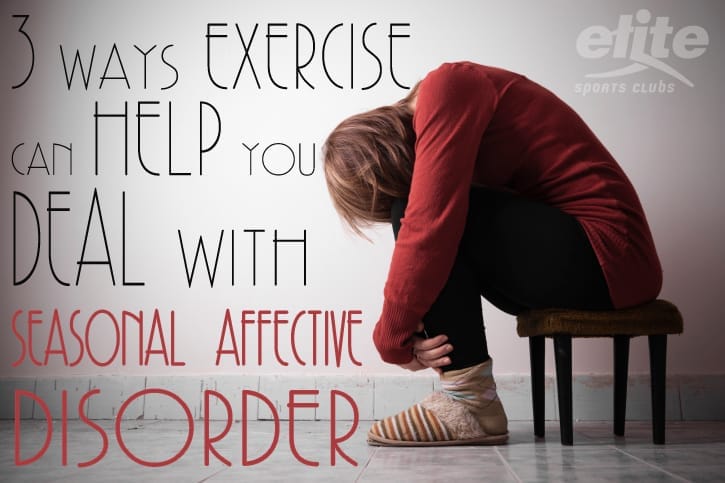 We love this time of the year. Fall is here once again! The changes in colors, the smells, perfect outdoor weather that's not too hot and not too cold. And of course Packer football!! However, each year we're surprised by how our bodies and mood are affected by the change in season. Have you noticed a change in your mood lately? Are you more tired and irritable than usual? Do you find that you are craving more carbohydrates? Is it harder for you to get out of bed in the morning? All of these are common symptoms of a condition called Seasonal Affective Disorder.
What is Seasonal Affective Disorder?
Seasonal Affective Disorder, also known as SAD, is a condition that is related to the lack of sunlight during the winter months. SAD occurs 2-4 times more often in women than in men. Typical symptoms of Seasonal Affective Disorder include: difficulty waking up in the morning, a tendency to oversleep/overeat, a craving for foods rich in carbohydrates, lacking energy, difficulty concentrating on completing tasks, and withdrawing from social activities. Some people may even experience some classic symptoms of depression as well. These symptoms may include: insomnia, anxiety, irritability, a decrease in appetite, weight loss, and limited social interaction.
Here are a few ways that mild to moderate exercise affects us and can actually help brighten our mood:
Exercise affects us physiologically, producing endorphins. Endorphins are chemicals which improve our natural immunity, promote euphoria, and decrease perception of pain.
Exercise affects us physically. A stronger heart, an increase in energy levels, a decrease in blood pressure, improvement in muscle tone/strength, stronger bones, and a decrease in body fat are just some of the many benefits.
Exercise also affects us psychologically. Regular exercise has been known to reduce stress, decrease anxiety, increase self-esteem, and provide social interaction (especially if participating in a group exercise class-check out our schedule).
Mild to moderate exercise can be used as an effective means in helping to alleviate the severity of symptoms related to SAD. Get moving and stay active by participating in activities such as biking, dancing, jogging, tennis, swimming, walking, yoga, even house work and yard work (you have to rake up those leaves some time, right?). Try an activity you have never tried before! Try a group exercise class like pilates or zumba.
(You can also try using Red Light Therapy to combat and prevent Seasonal Affective Disorder symptoms too!)
So, get off the couch. Get out of bed. Get going and enjoy the daylight while we have it!
Try This 5 Minute "Pick Me Up" Workout: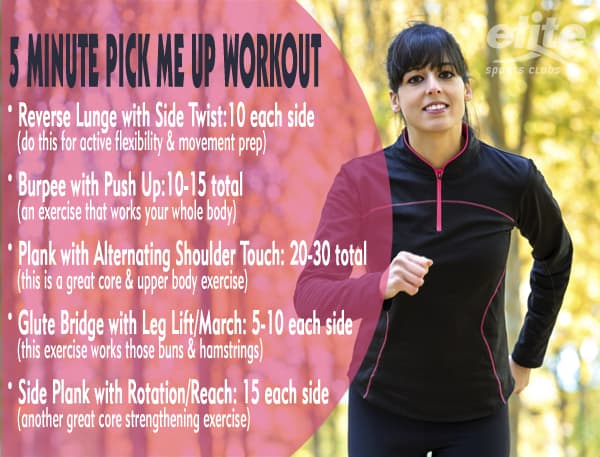 Need a little more more motivation to get out of bed and exercise? Consider working with a personal trainer. Elite Sports Clubs personal trainers will hold you accountable and help you actually make progress towards your goals.