We've made it easy for you to take part in a local summer run/walk with this handy list for you to scope out one that interests you. Start planning, coordinate with friends and family and fill your calendar with summer races in the Greater Milwaukee area!
With so many local summer races in the Milwaukee area, how do you choose just one? Well, the way we look at it, there's no need to limit yourself! Choose what motivates you the most, be it modeling a healthy lifestyle for your kids, spending time with friends, supporting a cause, fund-raising for a charity, or pushing yourself to reach a goal.
Delafield
Lapham Peak | Saturday, April 29th
The Bear Trax and Brownie Shuffle began in 2009, in honor of Nancy Sellars, who was killed by a drunk driver while riding her bike. The race not only brings people to the trails she loved at Lapham Peak, but also raises money for a fund established in her name. This year, the fund will establish scholarships for local high school seniors who demonstrate passion and prowess for both academics and silent sports, like running, cycling, snowshoeing, and more.
St. John's Northwestern Military Academy | Saturday, June 23rd
Be part of the conclusion of an impactful 50-state journey, as it wraps up here in Wisconsin in June. Dr. Adel Korkor began his mission of running a 5K race in each state within 50 days to raise awareness and understanding for mental illness. The course includes portions of the Ice Age Trail and the Lake Country Recreation Trail.
Milwaukee
Various Locations and Dates
What's better at the end of a run than a cold, crisp beer? You have plenty of opportunities to enjoy just that, as several different breweries around town offer the ability to be active paired with your favorite brew. Locations include: Third Space, Big Head, City Lights, Lakefront, Raised Grain, and Mob Craft Breweries.
Miller Park | Saturday, May 12th
Strain For The Brain is a Wisconsin-based nonprofit whose goal is to raise money for brain tumor research, and awareness of how tumors affect patients and loved ones. Brain tumor survivors can participate for free!
Miller Park | Sunday, June 3rd
PurpleStride walks are among the largest sources of funding for the Pancreatic Cancer Action Network. Join a vibrant community of survivors, impacted families, loved ones, researchers, and advocates committed to rewriting the future of this deadly disease.
Veterans Park | Thursday, June 7th
Held as part of a special kick-off for Pridefest Milwaukee, the Big Gay 5K is celebrating its seventh year. As a major fundraiser for AIDS Walk/Run Wisconsin and the Milwaukee Gay Sports Network, the Big Gay 5K promotes health and wellness within the LGBTQ community.
Wisconsin Lutheran High School | Saturday, June 9th
This special evening will give distance runners of any level the opportunity to race and pursue their personal best. The organizers have designed an evening of racing under the lights using pace rabbits to promote fast times and music.
Polish Fest | Friday, June 15th
Now in its 13th year, walk or run with Capuchin Friars to help feed the hungry through Capuchin Community Services' two locations: St. Ben's Community Meal and House of Peace. Sports radio personality Bill Michaels, a.k.a. The Big Unit, will emcee the event with Usinger's donating up to one pound of meat to the cause for every participant.
Lake Park Pavilion | Wednesday, June 20th
A challenging, winding course, the Superun 5K rewards its participants with Italian sausages at the end of the event, provided by the Pompeii Men's Club.
Veterans Park | Saturday, June 23rd
Sponsored by the Wisconsin Humane Society, this sixth annual event benefits our furry friends! Leashed dogs are allowed on the trail, and there are prizes for those raising additional funds, including a stay in a pet-friendly hotel and a year's supply of dog or cat food.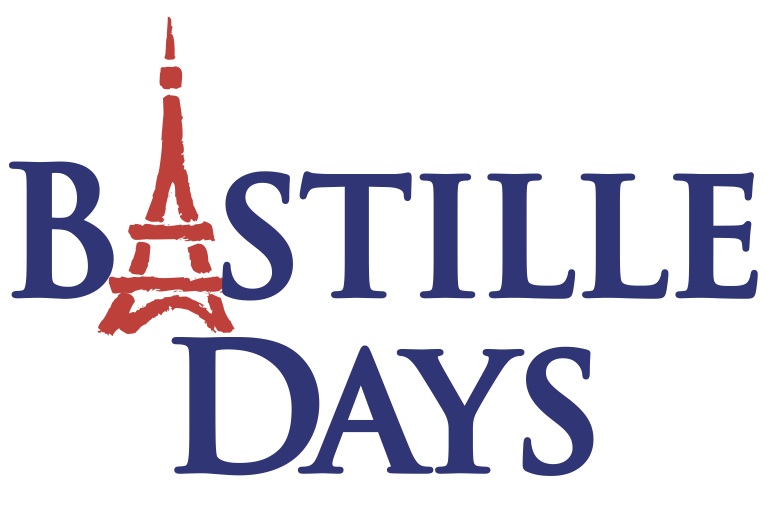 Corner of Jefferson & Wells, Downtown Milwaukee | Thursday, July 12th
Run through the streets of Milwaukee with 5,000 of other area participants! Runners and walkers will kick off the Bastille Days festival with this annual 5K run/walk, in memory of the 18th century attack on the Bastille prison in Paris. The course leads participants through the scenic streets of downtown Milwaukee and the Historic Third Ward.
Miller Park | Saturday, July 21st
Here's your chance to get as close to running the bases like the Brewers as you can! Join the Brewers Community Foundation – and those Famous Racing Sausages – in running or walking through Miller Park. All participants receive a Brewers ticket voucher for a future game, a commemorative t-shirt, a hot dog, water, and a beer (for those 21-and-over).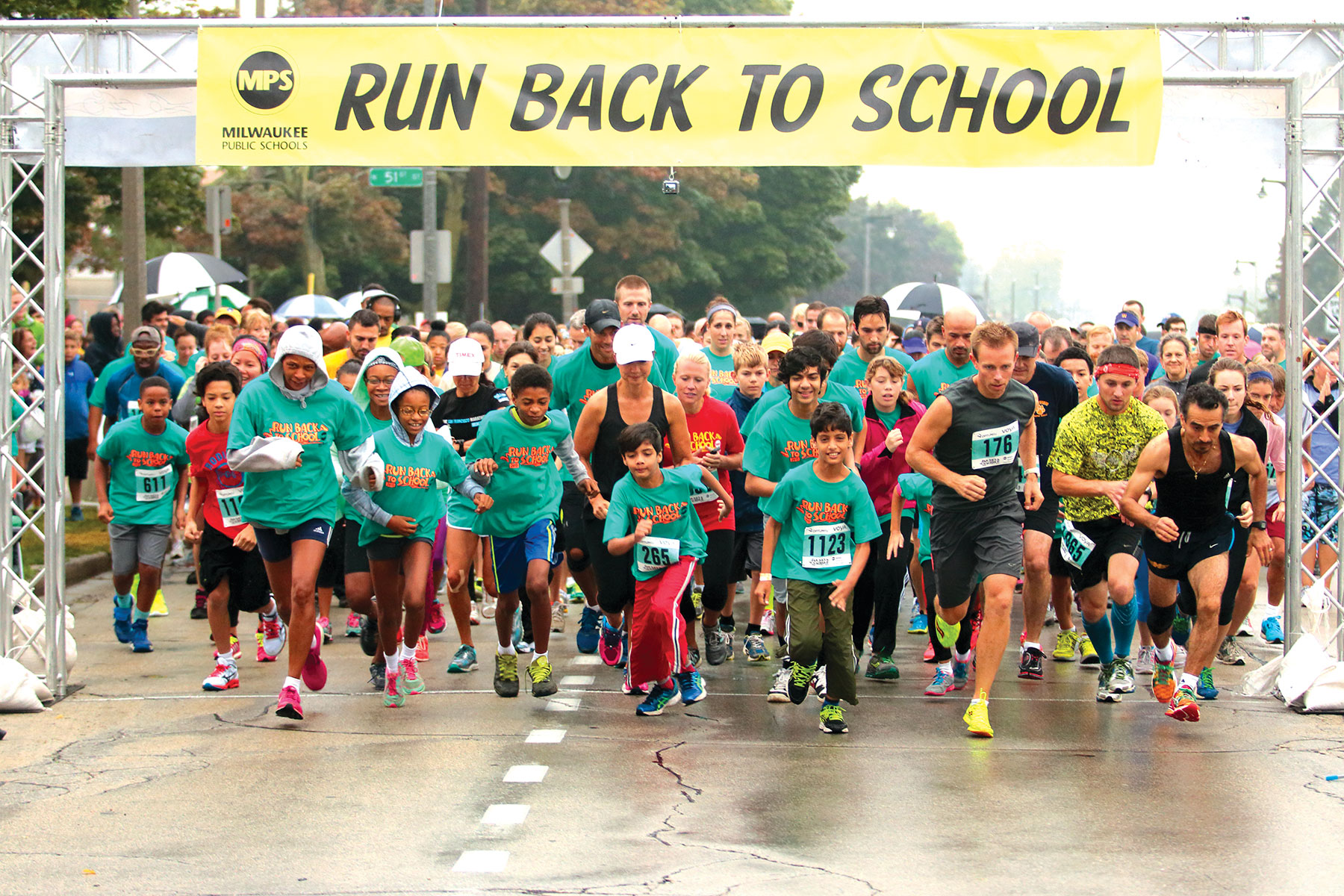 Wick Playfield at Washington Park | Saturday, August 25th
This 11th annual event put on by Milwaukee Public Schools gathers hundreds of Milwaukeeans from countless communities. Funds raised go to support extra-curricular activities, athletics, youth sports programs, and grants for team uniforms. Proceeds also are used towards scholarships for students who can't afford athletic program entry fees.
1575 N. RiverCenter Drive | Thursday, September 13th
This event is celebrating its seventh year with a scenic 5K run and 2-mile walk that takes you along the Milwaukee Riverwalk and around the beautifully-renovated Schlitz Park property and neighborhood.
Brookfield
St. Dominic Catholic Parish | Saturday, July 14th
All entrance fees support the St. Dominic Catholic Parish.
Whitefish Bay
Armory Park | Saturday, May 5th
All entrance fees support the Whitefish Bay Education Foundation.
Pewaukee
Pewaukee Lake Beach | Sunday, July 8th
One of the oldest standing triathlons in the state, the Pewaukee Triathlon holds a special place in the hearts of multisport athletes in and around Wisconsin.
Wauwatosa
1800 Swan Blvd. | Sunday, May 13th
An inspiring, celebratory 5K event that takes place in 8 cities across the country each Mother's Day on courses that wind through picturesque neighborhoods, scenic parks, and city streets. Moms, daughters, sisters, grandmothers, and everyone in between enjoy good memories, great atmosphere, and a festive post-race party featuring live entertainment, food, refreshments, and sponsor tents. A one-mile fun run for kids is also available.
Hart Park | Saturday, July 14th
Whether it's a two-mile walk, a 5K run, or neither – a "sleep in" option is offered for armchair athletes – the 7th annual Walk Run Wag is fun for all. This event benefits the Milwaukee Area Domestic Animal Control Commission (MADACC), which rescues and cares for more than 10,000 stray animals each year.
Greenfield Park | Saturday, August 11th
Now sprinting for 25 years without any sign of slowing down, the Sprint for Spina Bifida offers run and walk options, as well as a wheelchair race. Put on by Spina Bifida Wisconsin, Ltd, the organization enhances the lives of Wisconsin's families affected by the disease by providing resources, peer support, and social events within the community.
TOSA Pool at Hoyt Park | Saturday, August 25th
Who says adults get to have all the 5K fun? The Friends of Hoyt Park & Pool is hosting its third-annual youth triathlon, for kids ages 9 to 15. Swimming takes place at TOSA Pool, with biking along the Menomonee River Parkway. The Oak Leaf Trail surrounding Hoyt Park will host the running portion.
Port Washington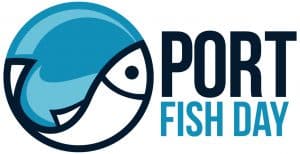 The 54th annual Port Fish Day festival plays host to its traditional 8K run (a competitive, timed event) and a 2-mile fun run/walk. Runners will race through historic downtown Port Washington and along the lakefront through the city's famous marina. All proceeds benefit Portal Inc., a local not-for-profit human service agency serving adults with disabilities.
Franklin
Froemming Park | Thursday, June 21st
Live music, food trucks, and plenty of beer. Oh, did we mention a 5K run and walk, as well? Factual to the name, this event has several dates on its schedule in various locations around southeastern Wisconsin, so click the link above for more information.
Hales Corners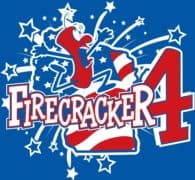 Hales Corners Park | Wednesday, July 4th
This year marks the 40th running of this Independence Day event. In addition to the 4-mile timed race, there is also a 1.7-mile fun run for the whole family to get involved on our nation's birthday.
Menomonee Falls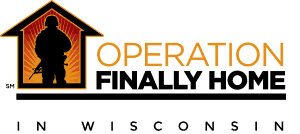 N88 W16495 Main Street | Saturday, May 26th
This 5K raises proceeds for Operation FINALLY Home in Wisconsin, building homes for local disabled veterans through community support and donations. All work is done by certified contractors and homes come completely mortgage-free.
Menomonee Park | Saturday, June 16th
Instead of another tie he won't wear, why not give Dad the gift of a 5K or 10K run? The link above has all your necessary registration information.
Oconomowoc
Village Green Park | Saturday, June 2nd
Did you know way back in 1939, The Wizard of Oz premiered in Oconomowoc, and not in Hollywood, New York City, or even Kansas? The city holds an annual event to commemorate that claim to fame, which includes a half-mile kids' fun run and traditional 5K.
City Beach | Saturday, August 11th
Starting in 1983, the Lake County Triathlon is one of the first and largest triathlons in the state. New this year, the race has expanded to include a larger transition area, finishing medals for all participants, and free beer.
Waukesha

Frame Park | Saturday, June 2nd
This 5K run/walk supports Cyclic Vomiting Syndrome (CVS) research at the Medical College of Wisconsin as well as the CVS Association's important initiatives, such as the publication of adult treatment guidelines and increasing doctor referral lists.
Fox River Park | Saturday, June 30th
Full of mature woodlands, wetlands, and many species of flowers, Fox River Park is a great place for a run or walk. Those bringing an item on the wish list for the not-for-profit partners, Support The Troops, will receive a raffle ticket for a prize drawing.
Frame Park | Sunday, August 5th
Two friends thought it was time for Wisconsin brides to get pumped up for their wedding, and what better way to do that than to have some wedding cake and champagne at the end of a race?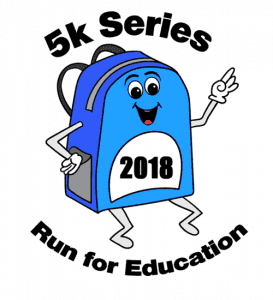 Kettle Moraine High School | Saturday, August 18th
The Wisconsin Run for Education is a series of 5K runs (and fun runs for kids) that support two school districts within the area. Each event is organized to encourage health and wellness in our community and to bring the school community – including personnel, students, parents, and businesses – together. New this year, organizers are asking participants to consider providing a toy for St. A's holiday drive for infants and children in foster care.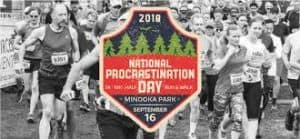 Minooka Park | Sunday, September 16th
As one of the last running events of the summer, it's fitting that this one is dedicated to the art of putting things off another day. Unlike other 5K's that usually begin with a specific route, participants cross an open field before heading out on the trail system. Do you have what it takes to tackle the aptly named Killer Hill?
—
If you know of any other summer races we might have missed, please add them in the comments. With all of the great causes and other fun reasons to run, we don't want to leave anyone out!
SaveSave
SaveSave
SaveSave