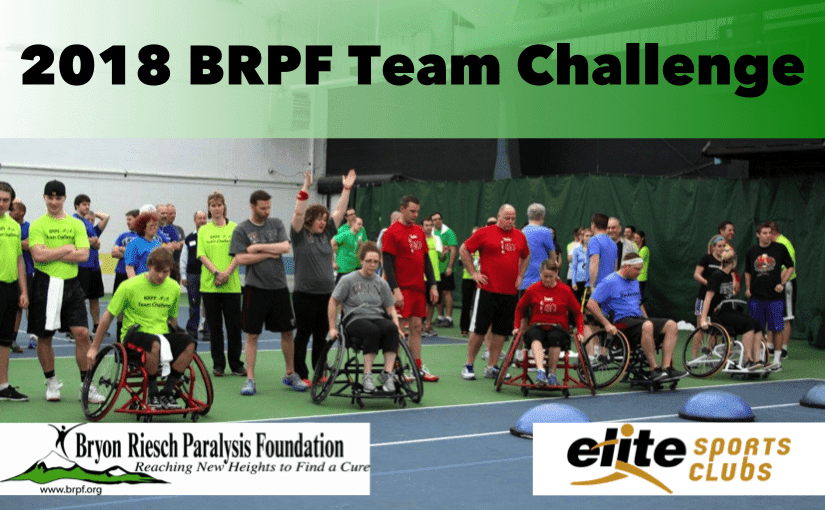 Elite Sports Clubs and the Bryon Riesch Paralysis Foundation (BRPF) have once again teamed up for the 2018 BRPF Team Challenge, a fundraising event dedicated to ending paralysis and promoting team building, health and fitness.
The Bryon Riesch Paralysis Foundation is a nonprofit organization that raises money for research grants and scholarships to benefit people that are affected by neurological disorders. Established in 2001, the organization has raised just under $5,000,000 to date through donations and numerous fundraising events like the BRPF Team Challenge.
Medical research has made great strides toward a cure for paralysis in recent years. Unfortunately, the cost of said research is rising. Therefore, your contributions are needed now more than ever.
About the 2018 BRPF Team Challenge
This friendly competition is composed of five different team challenges geared for all types of athletic abilities. On Friday, March 2nd, up to 32 five-person teams will be competing at the Quad in River Glen. What are you competing for? All five members of the winning team will receive a FREE six-month membership to Elite Sports Clubs. Anyone can participate – friends, family, coworkers, etc. Not only is it fun to participate, but it helps us get closer to a cure for paralysis! Over the last 5-6 years, the event has raised $15,000-20,000 on average.
Watch our interview with Bryon Riesch
Details:
Time
Friday, March 2, 2018
5:30 PM – Registration Opens
6 PM – Competition Begins
8 PM – Awards, Food & Beverages

Location
The Quad at Elite Sports Club – River Glen
2001 W. Good Hope Rd.
Milwaukee, WI 53209
Cost
5 Person Adult Team – $500
includes special dry fit T-shirts, pizza, and beverages
4-Person Kids Team (ages 9-13) – $140
includes special dry fit T-shirts, pizza, and beverages
Additional Resources
For more information on the 2018 BRPF Team Challenge, go to: //brpf.org/events/brpf-team-challenge/
To sign up as a participant, go to: //brpf.org/brpf-team-challenge-event-form/
Are you up for the challenge?
Sign Up
SaveSave
SaveSaveSaveSave
SaveSave