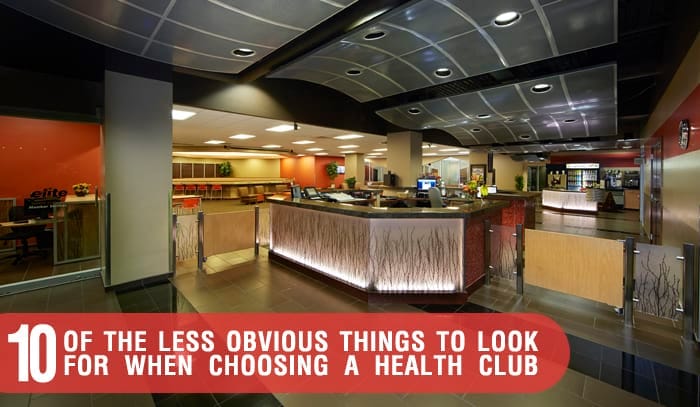 I've worked in the fitness industry professionally since 2006 and really have been around in other capacities working since I was 14 years old. So needless to say, I've seen a lot. One question I often get is, "with so many options out there, how do I thoroughly compare health clubs and figure out which is the best for me?"
To help answer this pressing question, I have composed a Top Ten List (in no particular order):
Immaculate Cleanliness: Attention to detail is key. Is there a cleaning staff around the clock, diligently working on every inch of the club? This needs to be a top priority so members feel they are at a "home away from home" (or maybe even better!)
Small Crowds: Look for well laid out space (and plenty of it!) within the club and lower membership numbers. One of the perks of this will be more available machines, and room to breathe—even during prime hours.
Comprehensive Assessments & Training: Does every new member get a full body analysis, exercise evaluation, functional movement screening, and strength/endurance/flexibility testing with a top physical trainer with a four year degree in the field and certifications?
Tennis: If tennis is your passion or a new hobby you have been curious about, Milwaukee can be tricky due to our lovely Wisconsin weather. You'll need a club that can service your tennis needs year-round. Does the club also provide access to professional level tennis players, leagues & drills for ALL skill sets, and state of the art facilities that are actually accessible due to a well-planned court reservation process?
Programs for Kids: If you have little ones in tow, you need a place that your family can enjoy and use to get active together. Is there training and classes for teens as well as younger kids? How about summer camps, karate, tennis, aquatics, a playroom, and events for the whole family? When you walk into the health club, do you feel that it's a safe, and has fun environment for all?
Concierge: Not many health clubs offer this service, but it provides a huge advantage when trying to get involved in your health club! Just like at a hotel, this service should cater to the guest's needs and connect them to every part of the club to ensure maximum benefit for every member.
Educated Professional Staff: Look closely, does the health club offer a professional level of service from not only the training staff, but also the front desk? Do the staff seem disinterested, or instead do they engage with you when you walk through the door?
Pools: This is right along similar lines as tennis, if you are an avid swimmer (or even just enjoy a dip every now and then) you'll need a club that offers multiple outdoor and indoor pools—again, thank you Midwestern winters. Another thing that might be of interest is how those pools are sanitized? Is chlorine too harsh on your skin, hair, and swimsuit? Then, salt water pools might be the best option for you. Then, depending on what you'd like to do in those pools, you'll want to see how the space is scheduled. Are the designated lanes and times for adult lap swimming, aqua aerobic classes for all intensities and levels, lessons and clinics for fine-tuning your skills—whether that be as a child or adult? What if you just want to relax? You will then probably want an aquatic center with a poolside cafe and lounge area.
Referrals: Now, not many people think of this when just starting to search for a health club, but you should! Did you know that most health clubs get new members as referrals from existing members? So, how do they reward their members for helping to spread the word about their club? Do they just offer a t-shirt, or is it something more significant like free services or cash rewards—and can that money be applied towards your dues? The referral program should be a win/win for both you and the club. The club gets new members (who will likely stick around because they know someone at the club personally) and the member gets a thank you that's actually worth something.
Health & Lifestyle Services: Again, this might not be something you initially think about while on your hunt for the perfect fitness & recreational facility. Nevertheless, things like on-site physical therapy (that accepts your insurance), chiropractic care, massage, and diet/nutrition services are necessary to take care of your body from head to toe. Why travel all around town for these things, when it makes the most sense for your health club to offer them?
So there you have it folks. It's hard to paint a complete picture and give you a feeling from just a list, but it gives you an idea of some of the things you should be looking for when choosing a health club. I encourage everyone that is looking for a full, well-rounded club experience to take the time to see for themselves!
Schedule a Tour
Does your health club offer everything on the list above? Is there anything important that you would add?
---
By Scott Eigenberg, Member Services Representative at Elite Sports Club-Brookfield