Every young athlete has a dream of becoming the next big star in their respective sport. But how do the world's greatest athletes reach the upper echelon? Let's look at what determines athletic success.
What Determines Athletic Success?
Some might say passion for the sport, incredible work ethic, years of practice, guidance from coaches, the list goes on. It's true, many factors contribute to an athlete's success. However, if we simplify all of the things that make an athlete great into one simple expression, it would be an equation:
Environment x Genetics = Athletic Success
It's an idea backed by research which concludes that the success of an athlete is the product of their genes times their environment. Altering genetics to become a better athlete is out of the question, but what's stopping you from creating the best environment for your athlete to succeed?
The greatest athletes train hard and practice a lot. If young athletes are motivated, providing them with the right tools at a young age will help them achieve athletic success. At Elite, we have a program called AMP that is designed for exactly that. While the practicing aspect is up to them, we can help achieve a desired level of fitness so they'll have an edge in their sport.
Athletic Movement & Performance Program
If your teen plays sports and is looking to maximize their athletic potential, look no further than Athletic Movement & Performance, or AMP. This program is aimed to help aspiring athletes build their foundation of strength, power, speed, and agility. The first steps towards building athleticism is to master the basics. Athletes can expect to improve their performance by learning the fundamentals of running, jumping, throwing, and weight lifting. Athletes will meet once a week for 6 weeks and learn strength and power exercises, speed and agility drills, and have fun too! AMP meets once a week for 6 weeks and is currently available for youth athletes 10-15 years old.
Run, Jump, Lift, Throw
In AMP, your kids will practice sprinting to become faster, jumping to increase lower body power, throwing to increase upper body power, and weight training to improve total body strength. At times, the methods will be simple, but it can take many months to years to become proficient at these skills. Our goal in this program is to always keep athletes healthy. There will be plenty of hard work put in, but never at the expense of poor movement quality.
If your athlete has ambitions to play at the high school, college, or elite level, strength and power training should be a part of the year-round process. To maximize athletic skill and decrease the risk of sports injury, it is recommended to complete 2 or more days of strength training each week.
An important point for parents and athletes to understand is that improvements in power and strength take a long time. There's a saying that the best time to plant a tree was 5 years ago, and the second best time is today. This idea is especially important for strength and power development.
Sign Up for AMP
---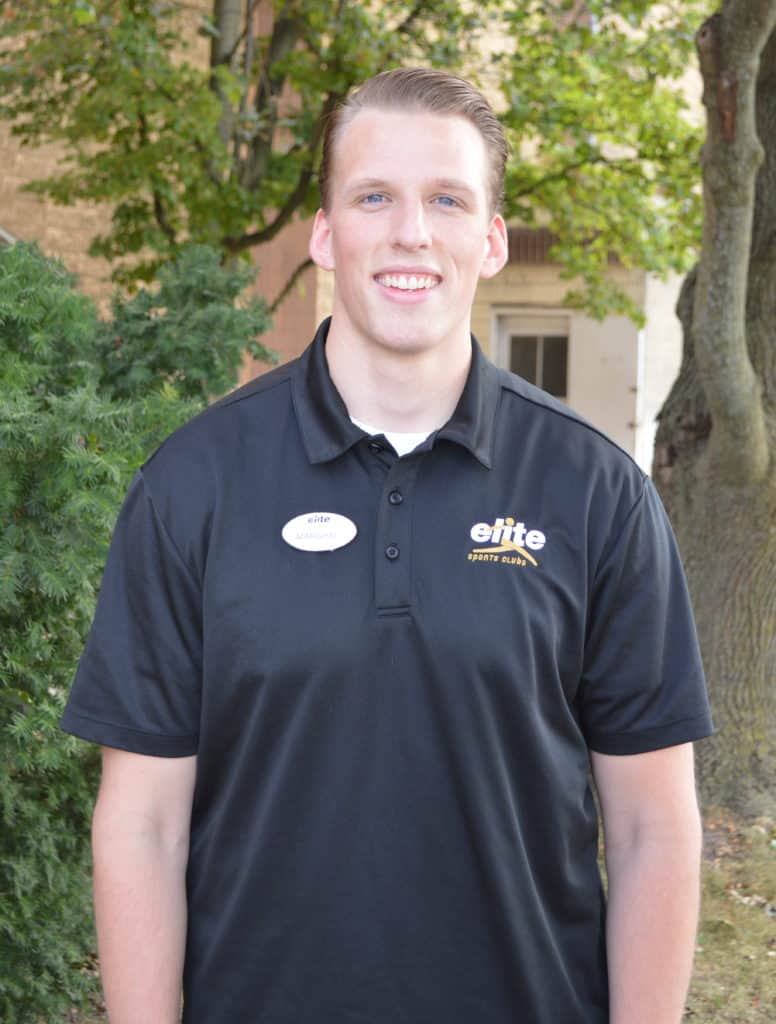 Written by Marshal Stich, Certified Personal Trainer at Elite Sports Club – North Shore and Elite Sports Club – River Glen.
Marshal has a B.S. in Kinesiology and Exercise Science from UW-Milwaukee. He is an American Council on Exercise Certified Personal Trainer and Certified Group Fitness Instructor, and American Sport and Fitness Association Certified Cycling Instructor. He specializes in Body Weight and Boot Camp Style Training, Battle Rope and TRX Training, Fitness and Nutrition Education, Strength and Conditioning, Training for Weight Loss, & Group Exercise. Marshal enjoys camping, hiking, and playing guitar. He lives by the philosophy of "It always seems impossible until it's done" – Nelson Mandela and he believes that becoming a healthier version of yourself is always possible. With a little bit of knowledge and the right amount of hard work, you can reach your health and fitness goals.