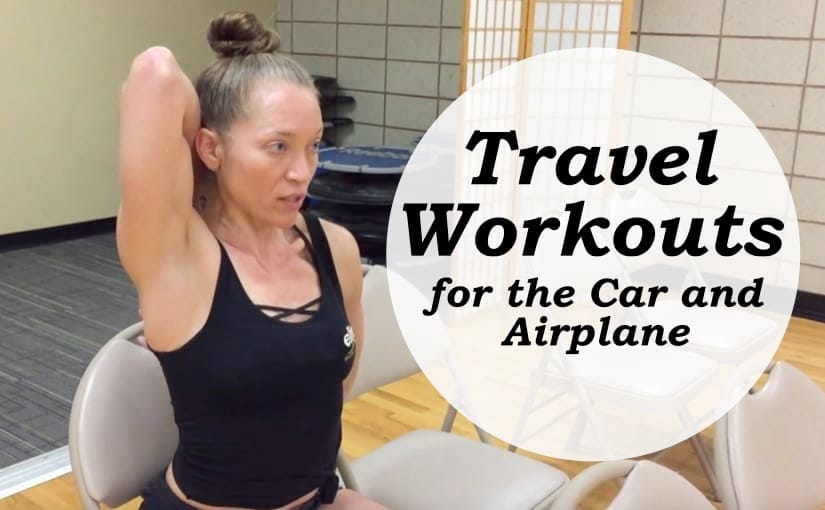 Are your frequent travels cutting into your time at the gym? You can make the most of your time on the plane or in the car with some simple stretches and workouts. These travel workouts will engage different muscle groups and keep you moving so you don't feel stiff or uncomfortable when sitting during those long trips.
Car Workout
Whether you're the driver or a passenger, road trips can be long and boring. Shake things up a bit (literally) with some movement! If you're the driver, keep good posture and try these movements to prevent stiffness. They can also keep you awake while driving. Make sure you're always paying attention to the road. Safety is the #1 priority.
Passengers in the front or back seat have a little bit more freedom. There's a wide variety of movements and stretches they can do to work out their legs, arms, and abs while on long road trips. You can even do them as a family and make a game out of it!
Airplane Workout
Sitting in a confined space on an airplane can leave you stiff, sore, achy, and overall uncomfortable. Try these simple movements and stretches to relieve some of that stiffness and engage some of your muscles during those long flights. You can even burn a few calories!
For more workout ideas like these, check out our Pinterest page!
Get more workout ideas, follow us on Pinterest!
---
Written by Amy Hall, CPT; Elite Sports Clubs – North Shore Group Exercise Director, Racquetball Director, and Personal Trainer
Amy is a AAFA Certified Personal Trainer, and is also an American Red Cross Certified CPR and First Aid Instructor, and Les Mills Certified Instructor. She specializes in sculpting, core strengthening, weight loss and diet coaching. Amy enjoys exercising, reading, and spending time with her children. She believes that being healthy and fit is a lifestyle, a conscientious decision to take care of yourself and be the best you can be everyday.
Amy began teaching group fitness in 1991, and has been part of the Elite team since 2005. She understands that every individual has unique fitness goals and believes that every day holds a new opportunity to become stronger inside and out. Amy applies a constant variety of training techniques to create both muscular and mental challenge to give you continuous results and improvement. She has demonstrated tremendous energy, motivation and perseverance while obtaining her professional training, which has improved the overall health of her clients and Elite's members.
SaveSaveSaveSave