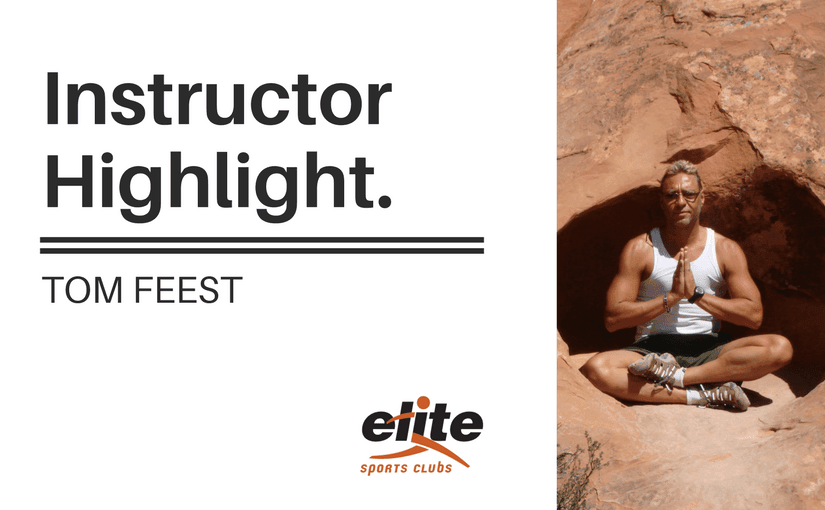 Tom Feest is the director of our Yoga program here at Elite Sports Clubs. Along with directing the program, he is also an instructor of multiple yoga classes at our Brookfield and Mequon locations.
1. What classes do you currently teach?
Vinyasa Yoga at Brookfield on Sundays 8:45am (2 a month)
Vinyasa Yoga at Brookfield on Mondays 8am
Power Yoga at Brookfield on Mondays 9am
Hot Yoga at Mequon on Tuesdays at 5:45pm
2. How long have you been teaching? 11 years teaching Yoga and Pilates classes.
3. What made you want to start teaching group exercise? I had seen and felt what Yoga had done for me as a student and it inspired me to do the same for others upon my early retirement from the corporate world.
4. What is your favorite part about teaching your class(es)? The energy, the workout, the music, and the benefits of sharing the gift of yoga with members.
5. Do you use music in class and if so what your favorite style of music to teach to? Music is the most important aspect of teaching a flow class, I play just about every type of music. I have Theme playlists, the playlists songs match the flow, I flow to the music. The playlists take hours to blend together but it is so worth it giving members the excitement of an incredible workout listening to a plethora of different types of music. I have playlists to celebrate Birthdays, Holidays, Tributes, Relationships, Oldies, 70`s 80`s and 90`s music, and on and on. I even ask members to give me a playlist request and I have had some good ones like the Olympics, darker music like Depeche Mode, female only, musician's deaths.
6. What is your favorite exercise to do in your class? Power flow to the music; building strength, adding more to an asana creating a more athletic approach to Yoga as a solid workout!
7. How do you stay active outside of your own classes? I continue my yoga practice at home venturing into "what can I add onto this asana?" to be more creative. Flowing much differently than the standard way we were all taught in training. I attend many of our Elite instructor's yoga classes to practice vs. only teaching.
8. What else do you enjoy doing in your free time? Travel, Golf, and hanging with many of my friends I have met through yoga at Elite.
9. What advice do you give people who are coming into your classes for the first time? Challenge yourself but listen to your body. Your body will tell you when you need to stop. We are not here to compete with one another. There is no perfect pose, it's how it FEELS. Listen to the modifications, apply them when needed, and break into child's pose at any time you need to. Have no expectations, and you'll have no disappointments! I always offer my support after class to help or guide anyone to better understand the asana they may struggle with.
10. What personal advice do you give someone who is looking to get to a healthier point in their life? Regardless of age, there is a class here at Elite for everyone. Whether it is a Mind/Body class or another Group Exercise class, every instructor at Elite is certified to teach that class. Follow your goals and your passion to stay healthy, that's what we are here for!
---
Have you taken a class with Tom Feest? Tell us about your experience, or perhaps your own personal health & fitness story!
[maxbutton id="12″ ]