Activity tracker, heart rate monitor, smartwatch, even smart racquets—they count your steps, track your activity, sleep, or even monitor your heart rate 24 hours a day. The choices in health & sports technology are becoming more abundant thanks to all of the new tech that seems to appear almost on a daily basis!
Wearable Health Trackers & Bands
Fitbit Charge HR
This band is one of the best health & sports technology wearables on the market, and measures more than those in the same price range. It uses continuous heart rate monitoring, which offers more accurate feedback on your activity and calorie burn than its competitors. The Charge HR also comes in 3 sizes to accommodate different people. The screen will show off your daily stats, as well as caller ID from your smartphone. The Charge HR also has an available app, which is easy to use, and offers daily activity totals, sleep, and heart rate data. Dietary information can be manually entered, including food tracking, eating plans, and weight monitoring.
What's great? Accurate heart rate tracking (resting, and workouts), sleep, steps, and most exercise. Caller ID feature.
What's missing? No GPS, so it doesn't measure running distances or pace. Simplistic sleep tracker that doesn't show detailed levels of sleep like other products do. Not waterproof.
Garmin Vivofit 2
A good value for the price, the Vivosmart 2 band will track your steps, distance walked, calories and sleep. Like other Bluetooth Smart devices, it can also be used with a heart rate monitor for BPM (heart rate zone) training. The band automatically sets your daily goals based on your recent activity; and your goal target is displayed as a countdown during the day. Calorie counting is done using an algorithm based on your personal stats combined with your activity, and distance recording is estimated using a calculation from the accelerometer (no GPS).
The Move Bar, a feature only available on Garmin devices, keeps you active during the day. After an hour of inactivity, the band gives you an audio alert and displays a red move bar that gradually builds. You need to get up and walk for a couple of minutes to reset it—a great feature for people who spend a good deal of time seated during the day. Additionally, you can combine your Vivofit 2 stats using the Garmin Connect app with calorie and nutrition information from the MyFitnessPal app to create a more personalized fitness and lifestyle program.
What's great? Reliable activity tracking, comfortable design,
excellent battery life, and it's water resistant.
What's missing? No phone notifications. Slow to sync at times. No GPS.
Moov Now
The Moov Now is a workout tracker and coach for people that want a little extra motivation to get active. This sleek device, a significant design change from it's previous incarnation, is like a personal trainer on your wrist. Workout programs and real-time audio coaching through the mobile app (for iPhones and Android phones) can help make you a better runner, a faster cyclist, a more efficient swimmer. You can even wear two to train for boxing, although that doubles the price. It's a really cool feature if you're willing to spend the extra money.
The Moov Now uses an accelerometer, gyroscope and magnetometer, all of which helps it detect your motion in three dimensions. Since it can effectively detect how you're moving, and not just how much, it can be more useful than typical trackers. For a newbie, it can help you gradually get the hang of new workouts. For a more seasoned fitness enthusiast, it can help perfect form to clock better times and avoid injury.
Two unique features, are it's inexpensive, replaceable battery, and the fact that it's waterproof – unlike the Apple Watch, and other far more expensive devices. From tracking daily activity, sleep, and fitness workouts, this pool-friendly device is a steal at about 80 bucks!
What's great? Real-time coaching teaches, challenges, and motivates during workouts and 24/7 activity and sleep tracking helps you monitor the rest of your day. It's waterproof!
What's missing? Smartphone technology, and headphones are necessary to enjoy the best features of this device. The strap, intended to be used on either your ankle or wrist can be a little hard to keep secure, especially if you have smaller wrists.
Others to consider: Jawbone UP2, Misfit Flash, and Mi Band.
Sport-Specific Technology
Play Pure Drive Smart Racquet
For the most part, tennis has been way behind the world of sport in adopting health & sports technology as a teaching aid. Babolat, is looking to bring tennis into the 21st century with the Play Pure Drive, a smart racket that records data about every shot you hit and sends it to your smartphone.
This smart racquet has the identical specs of the Pure Drive traditional model. On the court, the Play Pure Drive plays just like a regular high performance
tennis racket. According to the manufacturer, the extra weight of the computer hardware is compensated for by removing an equal amount of the balance weight that's added to a racket to keep it within it's advertised specifications.
The Play Pure Drive feels and plays like a regular high-performance racket. It has a rechargeable battery that is capable of 6 hours of use, and the battery can be recharged using the USB on your computer, or a wall plug. To activate the racket, you simply flip the small switch on the butt cap, and play. When you finish your hitting session or match, the racquet can be plugged in to your computer. The data recorded on the racquet is then accessible on your smartphone or computer using the Babolat Play app.
The app displays and analyzes various metrics including the number of forehand and backhand strokes, strike speed, shot power and the amount of spin on the shot. All of this data enables the player to get a full, detailed picture of his or her performance on the court. Other racquet and tech manufacturers, like Wilson, and Sony are getting in on the action, too…but the Babolat sports technology seems to be leading the way. Be prepared to pay a tidy sum for the secrets to your swing.
STRAVA App
The STRAVA app is a unique alternative to a bike computer and can be used for runners, too! If you ride a bike or run and want to keep track of those rides/runs, the STRAVA app is for you! Free for the basic version, and loaded onto your smart phone, STRAVA keeps track of distance, time, elevation, calories, and speed.
Third-party components allow heart rate and cadence tracking, and an upgraded membership accesses power output, your suffer score, and GPX file exporting. STRAVA uses GPS to accurately keep track of your route, whether on the roads or on the trails.
The real-time monitoring of metrics isn't as easy or considered as GPS specific
bike computers, but STRAVA is a good alternative that provides similar results. The STRAVA website adds a great social, and competitive aspect to training. It is extremely easy to use, giving in-depth analysis of recent rides and connecting you with other cyclists. You can compare your efforts to yourself, as well as to athletes all around the world.
If you want a tool to record rides from commutes to intense training runs and rides, and you already own a smartphone, STRAVA is an excellent choice.
Finis Neptune Swim Headphones
In almost every sport, music can be a rather powerful motivation to run or bike that extra mile but never to swim that extra lap, until now. Finis Neptune is secured onto swimming goggles. This device uses bone conduction audio to relay music to the user's ears, without the need for ear buds. This device also makes music louder and clearer when submerged underwater. It comes with a built-in 4GB of storage space, a rechargeable battery that lasts 8 hours and an OLED screen with music controls. The sound quality is good—within the confines of the fact that you've got lots of rushing water around your head, so this isn't a Bose sound system, but definitely of high enough quality to keep you motivated during your swim.
The unit is safe to use in fresh water, chlorinated, as well as saltwater. That being said, open water swimming with headphones on is not recommended, for obvious safety reasons.
SmartMat Yoga Mat
Still in funding stages, and coming in 2016, is a new approach to home or studio yoga, The SmartMat.
Thanks to the SmartMats' responsive built-in sensors, all you have to do is link your smartphone or tablet, and the mat will guide you through a series of audio and visual indicators, telling you if you're doing a pose the right way. You'll be able to analyze poses to provide you with micro corrections on balance and alignment and track your performance over a series of time to see your improvements. The mat will also teach you new types of yoga poses via custom lessons and record your entire workout in minutes.
To provide you with customized insight, you'll get to calibrate your mat with personal information for personalized feedback. You'll get to put in basic information like height, weight and gender, as well as more in-depth stuff like arm span measurements and the various ratios between your limbs so that the mat can recognize what individual body type you have. Stay tuned for this product's release.
---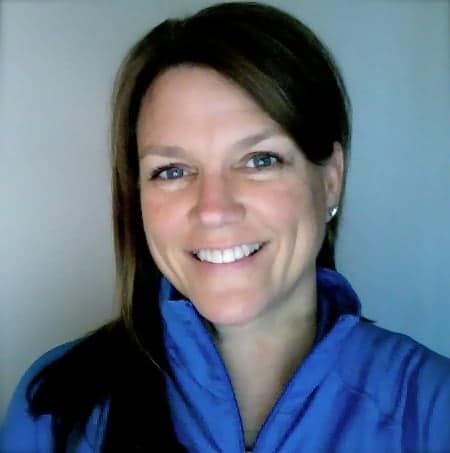 Written by Annie Farley, MS, CPT; Spinning Certified Star 3 Instructor & Group Exercise Instructor at Elite Sports Club-Mequon
Annie Farley has been the Director of Group Exercise, and a personal trainer at the Elite Sports Clubs location in Mequon since 2010. As a two sport collegiate athlete, she developed a passion for strength and conditioning, coaching, wellness, and exercise physiology. Sharing the knowledge of exercise science, and the enjoyment of being active has been the focus of her tenure at Elite. Indoor cycling, boot camp, and strength training exercise classes are among her specialties. When she's not teaching an exercise class, or training a client, Annie can be found on the tennis court, at the riding stable, or spending time with her husband and 4 kids.
Get Started! Tell us about your goals!