Whether you call it Cream City, Brew City, or Miltown, Milwaukee is rich in history and has so much to offer. Even if you've lived here your whole life, it's worth marveling at all of Milwaukee's hotspots from time to time. In honor of Milwaukee Day (April 14th or 4/14 , the area code for Milwaukee), visit local landmarks and take in the sights on this walking tour of our great city!
A: Veterans Park | 1010 N. Lincoln Memorial Drive
Located along Lake Michigan, Veterans Park is home to a revered statue of WWII Army General Douglas MacArthur. It also has large, grassy areas for relaxation and a paved area called the  Oak Leaf Trail, which was once underwater. Veterans Park is a great starting point for a walking tour, as you'll likely be inspired by others you'll see enjoying the day. You'll notice many people walking or running, flying kites, or enjoying the long lagoon with paddle boating or kayaking. There's also a Vietnam memorial, in honor of those killed in action, those who returned home, and POW/MIA's.
Walking: .5 miles

B: War Memorial Center |750 N. Lincoln Memorial Drive
This shrine, "to honor the dead by serving the living," was originally commissioned in 1950 and was finished seven years later. Its architect, Eliel Saarinen, passed away before it was completed, so his son, Eero, took over the project and brought it to life. With a design influenced by abstract geography, the western face of the building is adorned with a mosaic mural of more than one million pieces of marble and glass, created by Wisconsin artist Edmund Lewandowski.
Walking: .4 miles

C: Milwaukee Art Museum | 700 N. Art Museum Drive
Milwaukee has many inspiring buildings, but it was the 2001 MAM addition that put Milwaukee on the architectural map. Usually referred to by the last name of its designer, Spanish architect Santiago Calatrava, technically the addition itself is called the Quadracci Pavilion. The Calatrava encompasses three separate sites: a gorgeous, cathedral-like space known as Windhover Hall; Reiman Bridge, which connects the museum to the city; and the expanding and contracting "wings," – aka the Burke Brise Soleil. With a wingspan comparable to that of a Boeing 747-400, you can view the opening and closing of this awe-inspiring structure during the museum's hours of operation. Plus, if you haven't been inside or visited the MAM since your last school field trip, you can certainly get even more walking in by enjoying part of your day within the museum!
Walking: .8 miles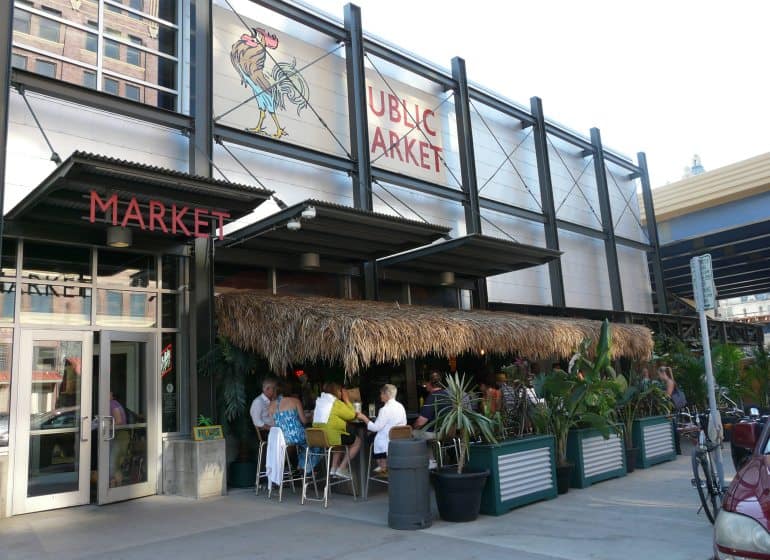 D: Milwaukee Public Market | 400 N. Water Street
Not to be outdone by other public markets in cities like Cleveland and Seattle, this two-story mecca of produce, sweets, and a diverse range foods opened its doors in 2005. As you approach the midway point of your walking tour, this is a great place to people watch or stop for a bite. The market has plenty of healthy and gluten-free options. You can also sign up for cooking classes taught by market vendors, local chefs, and nationally renowned authors of cookbooks. With two bars and an infinite amount of food combinations, you'll be planning your next trip to the market while walking to your next destination.
Walking: .4 miles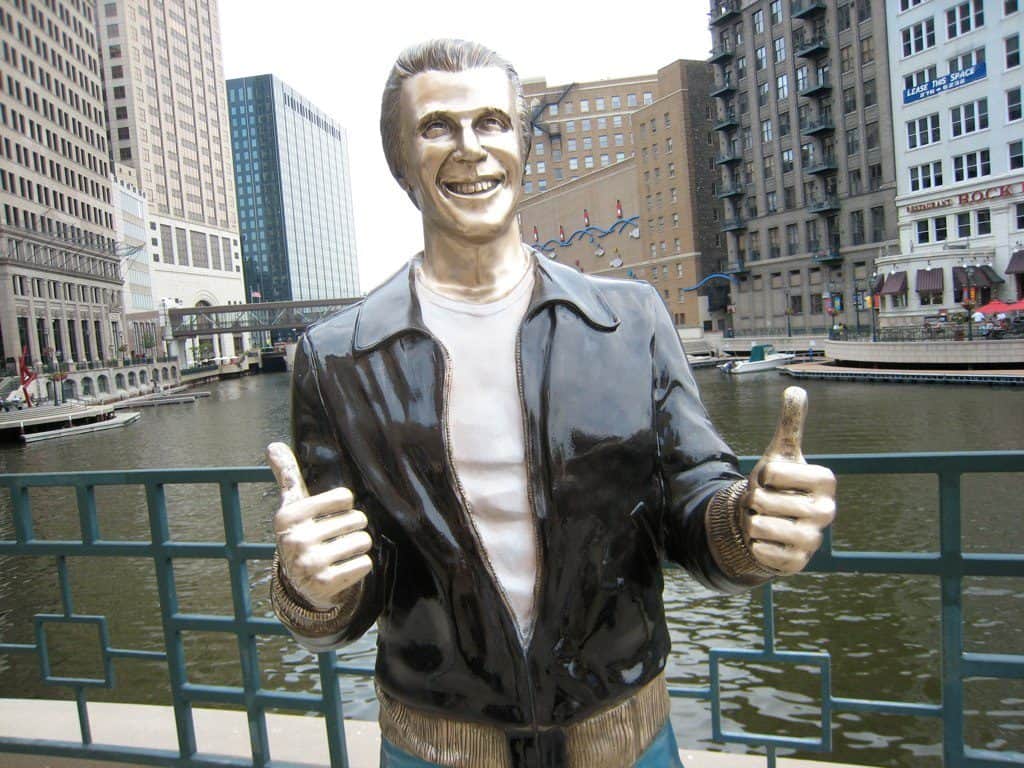 E: The Bronze Fonz | Corner of W. Wells Street and N. Riverwalk Way
Happy Days hit the TV screen in 1974. The sitcom ran for 10 years and spawned three popular spin-off programs: Mork & Mindy; Laverne & Shirley; and Joanie Loves Chachie. The most popular character of the original series was by far the smooth-talking Arthur Fonzarelli, aka, the Fonz, played by Henry Winkler. In 2008, The Bronze Fonz statue was unveiled as a monument to the iconic TV character and the show, which was set in Milwaukee. Be sure to stop for a selfie and say "Ayyy!" to one of Milwaukee's most photographed monuments!
Walking: 1.1 miles
F: Milwaukee RiverWalk | N. Riverwalk Way from W. Wells Street to E. Pleasant Street
Erected in 1993, this 3+ mile stretch runs along both sides of the Milwaukee River, through Downtown, the Historic Third Ward, and into Lake Michigan. Several hundred years ago, the river was a huge trade location between the Native American tribes who lived along the riverbanks and French explorers and fur traders. The City of Milwaukee has an agreement with those who own riverfront property. In exchange for public access year-round, the city pays for any RiverWalk improvements. Strolling the RiverWalk makes for a perfect jaunt if you want to see the city from a new perspective!
Walking: 1.5 miles

G: Juneau Park | 900 N. Prospect Avenue
Transitioning from the urban skyline of downtown Milwaukee to the beautiful beaches hugging Lake Michigan, Juneau Park is a great way to wrap up your walking tour. You'll find statues honoring Milwaukee founder Solomon Juneau, as well as Icelandic explorer Leif Ericson. There's also a natural terrace with an amazing view of Lake Michigan
Total walking distance: 3.2 miles
Walk On!
Milwaukee may be known as the City of Festivals, but it's also a great place to explore on your own terms. Enjoying the sites on a walk or jog through the park system is always free. After this walking tour, we encourage you to find others – guided or unguided – online, or feel free to  make up your own!
SaveSaveSaveSave
SaveSave
SaveSave