As the days get longer and the weather gets warmer, that means summer is coming. With summer comes grilling season, unless you are crazy enough to grill during winter. Nothing is better than grilling a great steak after a day of doing yard work or hanging with some friends. However, getting your steak just right can be a bit challenging. In this blog we will cover how to help you grill a great steak.
The Best Flavor Combinations
Maybe the most important part, after choosing a great cut of steak, is to pair a great beverage with it. A good red wine goes with steak, but if you are not a red wine drinker you can pair some other beverages. Whiskey or bourbon old fashioned's go with any steaks. Grilling out some sirloins? Grab a nice pale ale. Are ribeyes the steak of choice? Grab an IPA to pair up with it. IPAs can also be used to help make some marinades for the steak. Just a few options…. but now that you have your steaks and a tasty beverage to go with it, let us get down to business and start grilling those steaks.
Prepping Your Steaks
Take out your steaks and let them sit at room temperature for about 30-40 minutes, depending on the thickness. As it is warming up, rub the steak with a little extra virgin olive oil and apply your seasonings. You can use either a salt and pepper mixture or a specialty seasoning. The House of Homemade Sausage in Germantown has a great steak seasoning. During this time, make sure to get your grill going to get it really hot!
Grilling Time!
Now that the steaks are seasoned and up to temperature, it is time to grill them. Place your steaks seasoned side down over direct heat. Take 2-4 minutes to get a really good sear on your steak. Thicker steaks will be closer to 4 minutes. While searing your steak, season the top side.
After the first side has seared, grab your tongs and check to make sure they work again. Flip your steak to sear the other side again 2-4 minutes. After the second side is seared, move the steak to the side of the grill where there is no direct heat.
How to Tell Doneness
While cooking over the indirect heat, it is important to use the hand method to check the doneness of your steak. How long it will take is dependent upon how thick your steak is and the doneness you desire. Cutting with a knife or using a meat thermometer allows the juices to flow out of the steak and dry it out. Below are some pictures of how to use your hand to check the doneness of your steak.
Raw steaks should feel like the fleshy area of your hand between the thumb and base of palm. Make sure your hands are relaxed.
For well-done steaks, poke the same area but instead of a relaxed hand firmly push your pinky and thumb together.
To check for a medium steak, again poke the area between the thumb and base of palm but this time place your ring finger and thumb together.
For medium rare, poke the area but put your middle finger and thumb together.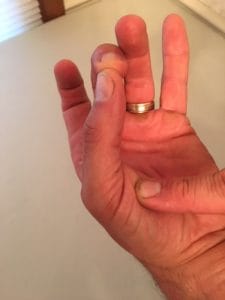 For rare, again poke same spot but it is pointer finger and thumb.
When your steak has reached it desired doneness, take it off the grill and let it sit for a couple of minutes while you get the rest of your dinner finished and plated. Then grab another beverage and enjoy your great steak!
If you would need additional grilling tips, tricks, or ideas, come see me for a fitness consultation!
Schedule a Nutrition Consultation
---
Written by Jason Liegl, Certified Personal Trainer & AMP Program Director at Elite Sports Club – Mequon.
Jason re-joined Elite Sports Club-Mequon in 2008. He holds a BS in Fitness Management from UW-Parkside. Jason is a certified personal trainer through ACE. He is also certified by Titleist Performance Institute as a level 1 Golf Fitness Instructor, Functional Movement Specialist level 1, Functional Movement Systems level 1, Kettlebell Athletics level 1, and Precision Nutrition level 1 nutrition coach. Jason has experience in training athletes from almost every sport. His belief is that with a solid foundation and hard work, any athlete can get better!