Want to start playing one of the greatest lifetime sports out there, Tennis?! Well before you get started, here's a few things you should know to help get you on your way. So, before you start playing tennis, read these 5 tips:
1. What do I need for equipment to start playing tennis?
Tennis doesn't require a lot of expensive equipment like many other sports. You just need a racket and balls to get started. High quality rackets can be purchased for $99-$250. You will want the racket strung according to your swing style. There are many material, diameter, and color choices. How tight or loose you string will have an effect on the way you play.
The regulation ball is pretty similar no matter what brand you choose. An interesting choice as you get started would be to play with some of the low compression balls most often used for kids play. Playing with a lower compression ball will slow the game down so that learning new techniques and tactics can happen quicker. Since one of the main goals of playing tennis is to rally the ball back and forth, having a slower ball will only make this happen sooner and more often.
2. How do I get better?
It's all about practice! There are many ways to practice and improve in tennis. I recommend taking some group or private lessons right away to learn the proper
grips and stroke mechanics. If you can get the fundamentals down early, all the time you spend practicing will allow you to make steady improvement. After some instruction, the ball machine is a great way to practice. It can be programmed and operated from your own Apple device. You can load in your favorite drills so set up is quick, allowing you much more time to hit balls. You can still use the remote to operate the machine if your phone is not an Apple device. See a tennis staff member to get directions on how to get started with the ball machine.
Another great way to practice is with a friend. You can rent court time and a basket or cart of balls to do drills you learned in groups or privates. Make it competitive by adding scoring. You can also make your practice specific to an area of work— ground strokes, volleys, lobs and overheads, serves and returns, singles or cross court half court for doubles practice. A great rule of thumb is 1-2-3. For every 1 hour of instruction, you need 2 hours of practice, and 3 hours of competition. This ratio is key to steady improvement.
3. What level am I?
The easiest way is to use the NTRP rating scale. You can also get an evaluation from the Elite tennis staff. This will help you in finding appropriate group lessons, tournaments, leagues, and socials.
4. When I'm ready to play, how do I get started?
There are all kinds of competition in tennis to test your skills. There is singles, which is one-on-one, and is a real test of a player's fitness, power, and endurance. A typical singles match can last anywhere from 1-2 hours for a 2 out of 3 set match. At the professional level, they play 3 out of 5 sets and matches can go on for 4-5 hours!
If you are looking for a little more company, try doubles. It matches two against two and is usually a faster paced game than singles. Doubles matches are usually 60-90 minutes in length and can feature men's, women's, or mixed. Both singles and doubles competitions can be for juniors (under 18) and adults and can be arranged by age or level (NTRP rating). There are individual tournaments or league play. Of course there is nothing wrong with just setting up your own competitive match with a friend or have a tennis pro match you up on some open court time.
5. Who are the best people to start playing tennis with?
That of course is your family! Tennis is one of the few sports that you can play your whole life and practice as a family. There are smaller courts and lower compression balls to equal out the age, size, and strength discrepancy of players. There are competitions for husband/wife, parent/child, juniors, adults, high school teams, and college club teams. You can even take a lesson as a family to be taught how to practice together and improve in a way that is beneficial for all levels and abilities. Stop by one of our FREE Family Fun Nights to learn how to get the whole family out playing tennis together!
Get more involved with Tennis!
---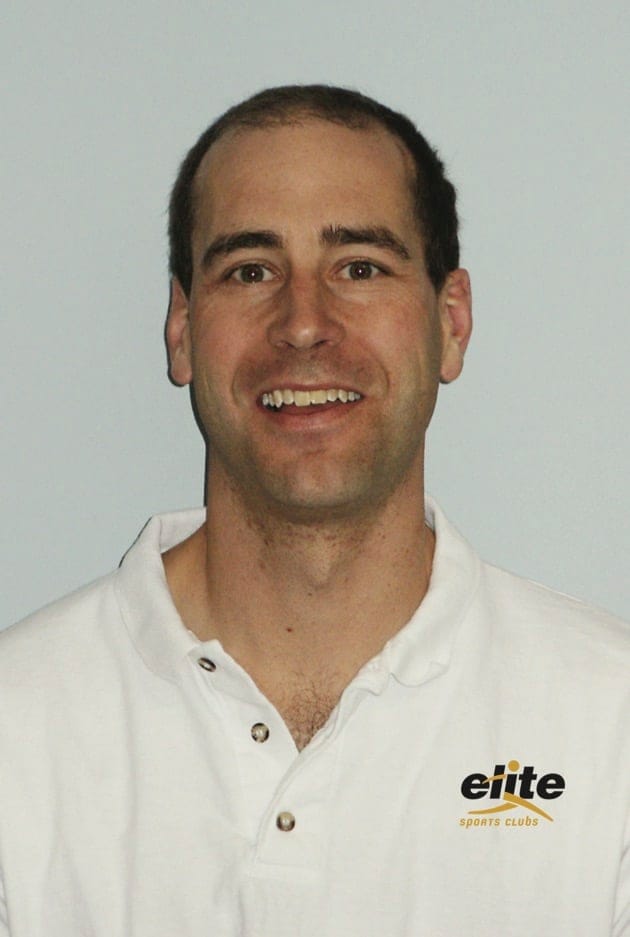 Written by Mike Sharp; Elite Sports Club-West Brookfield Tennis Director & General Manager
Mike Sharp has been an Elite Tennis Pro since 1990. He is USPTA certified, a USRSA Master Racquet Technician, and the Elite Clubs pro shop buyer. Mike is President of the GMITA and also President of the WTA. He previously has served as the Head Pro for the J.C.C. summer camp, Director of Elm Grove's summer tennis, and an assistant coach at Brookfield Central. He was named the Elite Sports Club-West Brookfield Tennis Director in 2002.