REOPENING PLAN & RESERVATIONS
We're excited to welcome you back to the clubs! While we have been closed, we have been researching all that we can do to keep you safe: we have consulted with doctors, hospital maintenance companies, and commercial cleaning experts to create great solutions to ensure a safe and healthy space for our members and team members. While we have a great plan in place based on CDC and Wisconsin recommendations, we know that this will need to evolve and adapt over time — so please keep us posted on what works and what doesn't work for you so we can continue to make improvements.
We will continue to update this webpage as more information becomes available, so please check back often.
Please complete this health waiver BEFORE returning to the club.
Sign up for Email Club Alerts
CLUB REOPENING INTERIM HOURS
Our hours have been limited to accommodate overnight sanitization. Click the links below to view adjusted hours.
AT-RISK GROUPS HOURS
We are rolling out hours for those at high-risk (over 50 or with a medical condition). For those who are not at high risk, kindly avoid coming to the clubs during these times so that our higher-risk members can feel comfortable and safe working out.
Brookfield, West Brookfield, Mequon, River Glen

Monday-Friday 8:00 a.m. – 9:00 a.m.

North Shore

Monday-Friday 2:00 p.m. – 3:00 p.m.

Mequon

Saturday & Sunday 7:00 a.m. – 8:00 a.m.
KEEPING THE DISTANCE, TOGETHER
We welcome everyone to come to the club unless you are experiencing the following:
Signs of a fever or a measured temperature of 100.3 degrees or
greater within the past 24 hours.
Cough or trouble breathing within the past 24 hours.
Have had close contact with an individual diagnosed with COVID-19.
Have been asked to self-isolate or quarantine by my doctor or a local public health official.
Research has shown that gyms pose no additional risk to members for catching COVID-19
A large-scale academic study has concluded that there is "no threat of increased COVID-19 spread" at fitness facilities, even when intensive training takes place.

A team of researchers at the University of Oslo, led by professor Michael Bretthauer, investigated SARS-CoV-2 transmission (the virus responsible for COVID-19) – and whether it was attributable to gyms.

"Our trial showed no virus transmission or increase in COVID-19 disease that was related to the opening of gym facilities," said Bretthauer.
How to Access Your Member Account to Make Reservations
Many of our online reservation systems will require you to utilize our member portal. If you have not used this feature of our software system yet you'll want to first go to our website and click "Member Login" in the menu options. Then go to the "First Time Here" section and click "Access My Account".
You can search for your account by entering your contact information. Hint: the email address your statement gets sent to is likely the best way to find your specific account, but you can also search just using your name if you do not know the email address or it does not recognize the email address. Each person on the account will have their own unique login credentials.
An email will be sent to you with instructions to access your member account — make sure you check your Spam folder, it will come from [email protected] You can then set up logins for each individual on your account to make their own reservations.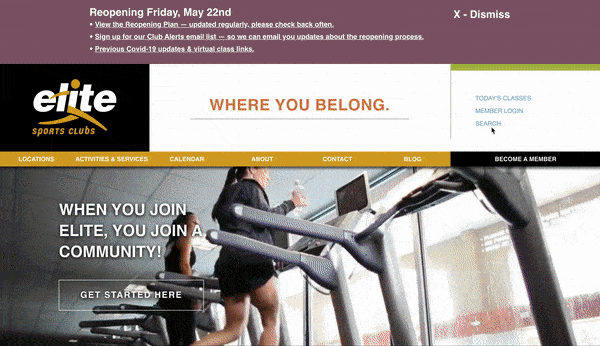 Billing/Membership Dues
No one is being charged for May — instead, we will apply pro-rated dues that were charged in March when we closed early.
We will roll March permanent court time, locker rentals, etc. to the end of May.
If you are not comfortable returning to the club yet, despite all of our safety provisions, or are temporarily financially unable to come back, we will provide an option to opt-out of being charged for June dues (linked above).
Because we are ramping back up, our team has a lot to do and will not be able to handle any changes in accounts for several weeks. We will treat everyone fairly and with professionalism, and since we are not forcing anyone to pay June dues, this gives our team a bit more time to get up to speed.
To promote physical distancing, account issues and changes will need to be handled by phone or email. The Business Office will not be available for walk-ins and the Front Desk and other Service Providers will not be able to adjust accounts.
Health Acknowledgment & Certifications
All members will be required to complete a health acknowledgment form online.
This form confirms that you will not come to the club if you have any symptoms of Covid-19 and that you will comply with policies intended to prevent the spread of Covid-19.
We will have our team members complete a similar form plus a special health certification each time they come to work and they'll be fully trained on the proper use of PPE.
If staff are experiencing symptoms of COVID-19, they will be asked to stay home.
General Health Protection Policies
There will be designated one-way traffic in certain hallways and stairwells.
Staff will be required to wear masks, and members should do the same when not participating in vigorous exercise.
We're limiting the total capacity of the club following the Wisconsin Department of Health guidelines.
We are staggering start times for our lessons, classes, and programs to alleviate congestion in high-traffic areas of the clubs.
Initially, no out-of-town guests will be allowed, and all local guests must complete the online guest waiver before coming to the club (links to each club's waivers are available in the locations menu above.)
In the locker rooms, every 4th locker will be available, the rest will be closed.
Certain, but not all, amenities will require advance reservations which must be completed online before coming to the club, see quick links section above as they become available.
Additional Sanitization Protocols & Standards
We will be all about cleaning, cleaning, and more cleaning, thoroughly and frequently!
We've involved third party resources in infection control to advise us on our cleaning processes and auditing tools to make our spaces safe.
This includes staff training using Spartan's Clean Check training tools, used by hospitals, hotels, and food processing plants worldwide.
We've also invested in new sanitizing technologies including…
Pools/Hot Tubs/Saunas/Steam Rooms
Occupancy limits will be posted for the pools, hot tubs, saunas, and steam rooms.
Our pools all have occupancy levels based on the surface area of the water, these are posted at the clubs. These rules are mandated by the state and change regularly.
All pool furniture has been spaced out to accommodate social distancing and is sanitized after each use.
The outdoor pools are now open!
Pool lane reservations for lap swimmers can be made using the link in the "Quick Links" section above.
We don't plan on taking advanced reservations for the hot tubs, saunas, and steam rooms at this time so please be accommodating of your fellow members and limit your time using these amenities.
How to make an online reservation:
Select "Swimming" from the tabs at the top.
Choose your club location from the dropdown menu below that and the date from the calendar date picker on the right.
Click the "Reserve a Lane" button.
Use your cursor to click and drag on the schedule to select the desired lane and the time slot you want to reserve.
Click "Save Reservation".
To cancel a reservation select the date, click your reservation, and in the "Take an action" drop-down menu, select "Cancel".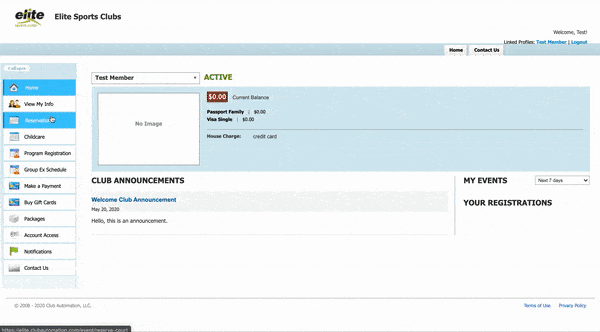 Fitness Centers
In addition to spacing out the equipment in our Fitness Centers which is open to every member at no additional cost, we're also creating special 120 square foot workout pods with barriers.

They include dedicated pieces of cardio & weight equipment and can be reserved online for one-hour blocks.
Between each use, the pods will be disinfected by one of our team members.
The cost to reserve one is $5 per session, which covers the additional cleaning and management expenses.

We'll also have designated personal training zones for private sessions with your trainer.
Exercise Classes
Starting June 1st we're utilizing larger open areas for exercise classes with marked boundaries for each participant.
Classes will be limited and reservations will be required — no shows will be charged a $10 fee.
We'll continue to post online classes until June 1 and archived classes are available on Facebook and Youtube.
We' won't have back-to-back exercise classes to allow time for sanitization and prevent congestion in the corridors.
We also have identified areas in each studio for members to leave used equipment so our team can sanitize it before its next use.
How to make an online reservation:
You can choose to view the schedule by class type or by date using the tabs at the top of the page.
Select your club location from the Facilities drop-down menu.
You can also choose a specific date from the date picker calendar.
Then click "Sign Up" and choose which family members on your account will be attending the class.
Click "Register". You can also "Unregister" in the "My Events" section on your profile home screen.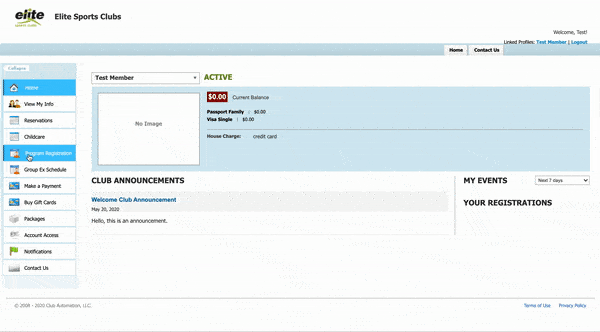 Tennis & Other Sports
All organized sports leagues & pick-up games will be on hold for the time being, except for tennis.
All tennis programming and play is available with advance reservation.
Racquetball will be available on a limited basis and by reservation only.
How to make an online court reservation:
Select "Tennis" from the tabs at the top.
Choose your club location from the dropdown menu and the date from the calendar date picker on the right.
Click the "Reserve a Court" button.
Use your cursor to click and drag on the schedule to select the desired court and the time slot you want to reserve.
Click "Save Reservation".
To cancel a reservation select the date, click your reservation, and in the "Take an action" drop-down menu, select "Cancel".
Childcare
We're adding more toys to the playroom and rotating them out to allow for sanitization.
Playroom capacity will be limited and by reservation only starting Tuesday, May 26.
Members can now make online reservations for the playroom through the "Childcare" option in the member portal.
3pm deadline to reserve for that same evening and 7pm deadline to reserve for the next morning (appointments before noon).
How to make an online reservation:
Select your child(ren) from the list.
Then select the "Room" (i.e. the club location), the date, and visit length.
Based on that info, the available time slots below will update.
Select the time you want and click confirm to make the reservation.
You may make a reservation up to 2 weeks in advance and can cancel reservations at any time.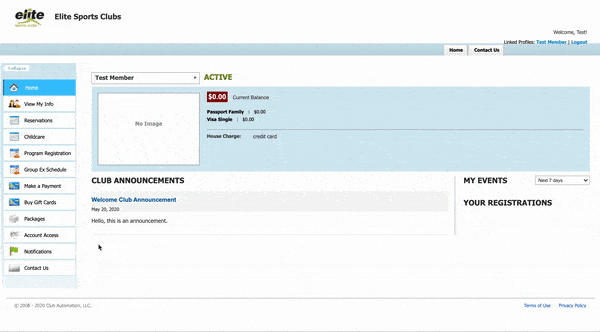 Summer Camps
We're excited for Summer Camps & Tennis Lessons to start June 1st with changes to protect the kids and staff.
Drop-ins will not be allowed for summer camps.
Kids will be health screened per CDC guidelines and there will be smaller counselor-to-child ratios.
We'll provide PPE for counselors and educate kids on cleanliness.
Other Amenities & Services
Cafe & Grill
Pre-packaged foods and beverages will be available for purchase.
Initially, coffee and prepared foods & beverages will be unavailable.
Red Light Therapy & Hydro-Massage
Will be open by reservation only and sanitized by a team member between each use.