Whether you're brand new to the clubs or have been a member for a long time, you have access to your own member portal through the Elite website. The member portal allows you to view and update personal information, view your statement, pay balances, and register for certain programs and lessons. Here's an overview of the member portal and how you can access it!
Accessing your Elite Sports Clubs Member Portal
1. How to Log In
Initial Login: To access the member portal for the first time, begin by opening eliteclubs.com and clicking "Member Login".
Once on the site, locate the "Access My Account" button listed under "First time here?".
In the "Register Now" window, enter your first name, last name, and email address. After entering your information, select "Search" in the bottom right corner.
Once your account has been identified, you will receive a "We found your account." prompt. A verification email will then be sent to your email address with the final login instructions. Please open your email to access these instructions.
The email you receive includes a verification link that must be opened to complete the setup process. Once the link is selected, you will be directed to an information page where you will enter/verify your personal information.
Note: You will only be directed to this information page during your initial log in. Future logins will not require this additional step.
Finally, complete all required fields on the information page, agree to the standard liability waiver,
and select "Save Account". You will then be directed to the member portal home page!
Standard login: After completing the initial log in steps, your account has been created and you no longer need to use "Access My Account" to log in. Going forward, you will enter your "Username" (your email address) and "Password" in the "Login to ELITE" box.
Questions: If you have any problems accessing your account, select "Forgot your password?" and a new verification link will be sent to your email. If you need to set up a new account or if the email address you provided isn't recognized by the system, contact the club at (262) 786-0880 for further assistance.
2. Member Portal Overview
Home Page: When logging in you will be directed to your "Home" page. The home page lists the following:
Current balance and membership type – these will be listed just below your name
Club announcements – be sure to  for any updates or announcements from the team at Elite Sports Clubs
Upcoming events and registrations – listed on the right side of the home screen will be any upcoming court reservations as well as your future class registrations
Note: if you are the primary account holder, select the drop-down menu to the right of your name (highlighted in yellow below) to navigate to different family members' profiles
Member Portal Tabs: Located on the left side of the member portal are the various tabs you will use to access program registrations, your member statement, etc. Below is the list of tabs you can access through your member portal.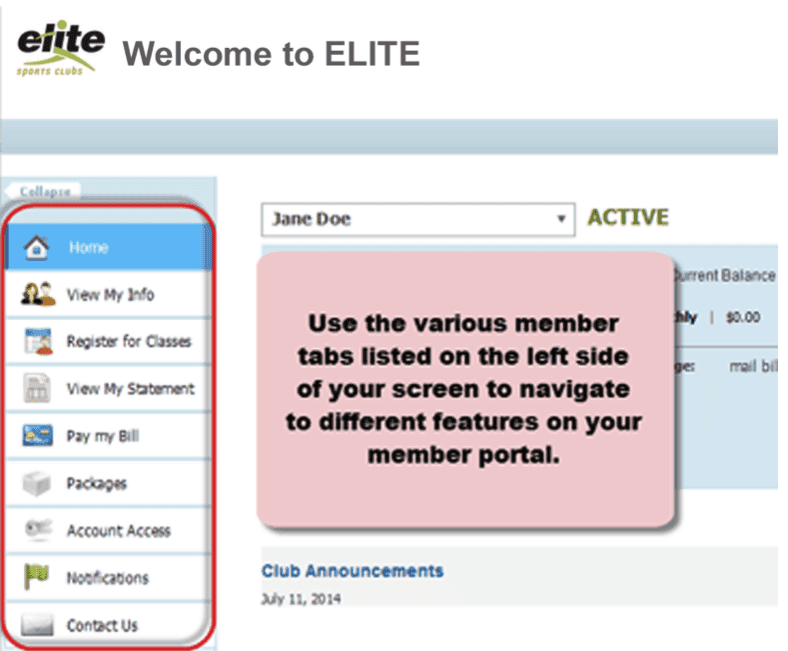 Home: This will navigate you back to the "Home" screen outlined above
Register for Classes: Any programs or lessons currently available for online registration will be listed on this tab
View My Statement: Select to review charges and payments posted to your statement
Pay my Bill: This will allow you to make online payments for any outstanding charges on your account
Account Access: Determine what linked family members are able to access their unique member portal, i.e. view charges or register for programs
3. View My Info
From this tab, you can update your personal and billing information, along with any linked members' information if logged in as the primary member.
Personal Information: To update your personal information, begin by selecting "Edit" in the top right corner of the Personal Information box.

Items that can be entered/updated in this section include:
Phone number and address
Email
Login and password
Member special needs
Billing Information: To update your payment method, begin by selecting "Edit" in the top right corner of the Billing Information box. Bill information can be updated on the primary account.
Items that can be entered/updated in this section include:
Credit card number and expiration date
Billing address
Statement delivery method preference
4. Register for a Program
This tab will allow you to register for all programs currently available for online registration. This includes many of our tennis programs and swim lessons, among others. To complete your registration:
Begin by locating the program from the list provided. You can also narrow your search using the filters provided at the top of the page, i.e. keyword or event time.
Once you have identified the class, either click on the class name or select "Learn More" to the right of the program name.
Once you have selected the program, all available sessions for the program will be listed. Select the green "Sign Up" for the session you would like to register for.

You will then be asked to select the member who will be registering for the class

Note: if you are the primary account holder and have family members linked to your account, all eligible members will be listed in this screen

After selecting the member name, click "Add to Cart" to proceed with registration
The program has now been added to your "cart" and payment can be taken
Select "View Cart" in the top right corner to process payment and complete your registration to process
In your cart, confirm the charges and select the green "Continue to check out" button
Follow the prompts to enter payment and complete the registration
Once you have processed your payment, the student will now be registered for the program
To navigate back to the home page, select the home icon in the top right corner
5. View My Statement
On the "View My Statement" tab, you can review all charges and payments on your member statement.
When logged in on a primary account, you can navigate between the statements of linked members by selecting the drop-down to the right of your name – highlighted in yellow in the picture below.
Statements are organized by month and will show all charges and payments generated in the month selected. To navigate between months, select the month drop-down menu found toward the bottom left side of the statement screen – boxed in red below.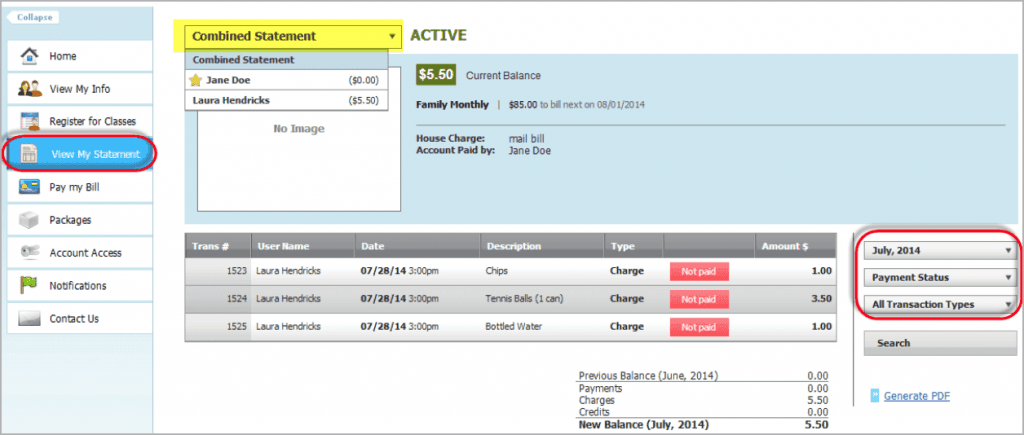 6. Pay My Bill
Navigate to this tab to pay any outstanding balances. To begin, locate the "Select Payment Account" menu. Next, select the payment type you will be using for the transaction. Once the payment type is selected, enter the account information in the fields provided.
Next, select the payment amount, which will either be "Statement Balance" or "Current Balance". After selecting the balance amount, click on the green "Continue" button to proceed with payment.

After selecting continue you will be prompted to verify your payment information and complete your payment. You will receive confirmation that your payment was completed and has been posted to your statement.
7. Contact Us
If you have any questions regarding the member portal, please do not hesitate to reach out to us! The "Contact Us" tab allows you to send an email directly to the team using the "What did you want to ask us?" box. You can also reach us directly at (262) 786-0880.
We are excited for you to begin using the Elite Sports Clubs member portal! Please don't hesitate to reach out with any questions, we are happy to help however we can.