Thank You for Your Inquiry
Thank you for your interest in Elite Sports Clubs. You will be contacted soon by an Elite Member Service Representative.
Until then, we encourage you to get to know us a little more:
Read some of our very own members' stories.
Join Us For One of These

Upcoming Events
List of Events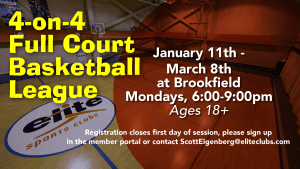 Full Court Competitive league. You can make your own team or join in as a free agent. The league will have a full regular season followed by a seeded tournament. Includes ref, stats, and scorekeeper, as well as prizes for the winning team.
+ Export Events