Kaitlin Wille is a certified personal trainer at Elite Sports Club – Mequon and also serves as a nutrition coach for all the east side clubs. Kaitlin believes that there is always something more to strive for and that everyone can always push themselves to be their best self. She loves guiding people to live a healthier lifestyle in both fitness and nutrition by sharing her knowledge with her clients. Learn more about Kaitlin Wille!
Meet Kaitlin Wille
What position(s) do you currently hold at Elite and any you have held in the past?
Nutrition Coach for the East Side Clubs & Personal Trainer at Mequon
How long have you been working in the health/fitness/tennis industry and how long have you worked at Elite?
I've been a personal trainer for 1.5 years, at Elite for almost 2 years, and in the industry over 2 years.
What made you want to start working in this industry and/or for Elite?
My biggest passion is health and wellness and I longed to be in an environment where I would be able to share my knowledge with others.
What is your favorite part about your job?
To help enrich the lives of others by sharing my knowledge, experience, and determination with them and to encourage them to live a healthier lifestyle.
What areas of exercise/fitness do you consider to be your specialty?
Weight loss, Functional Improvement, and Sports Training for Tennis
What activities do you participate in at the club or outside of the club that are health/fitness/tennis related?
Cooking & hosting dinner parties, tennis, snowboarding, wake-surfing, and pretty much anything that keeps me active and challenges me.
What has been your biggest personal struggle with health/fitness/tennis?
It has been difficult and enlightening at the same time learning to work with such a variety of clients who all have unique body types, health concerns, and lifestyles. I'm inspired to continuously be researching and reading up on industry studies so I can always be up-to-date about the latest information.
What has been your biggest personal accomplishment with health/fitness/tennis?
Seeing transformation in clients who have listened to the knowledge I've shared with them from all my past experiences, studies, and research.
What advice do you give people who are coming to the club for the first time?
Find an activity you love that keeps you moving. No matter your athletic ability, there is something for everyone. You just need to find what you enjoy most. Don't be afraid to ask a staff member for the correct form of an exercise and new workout ideas.
What advice do you give people who are struggling to make health/fitness/tennis a priority or are getting bored/burned out?
From a nutritional perspective, change up your list of staple ingredients and recipes! Expand your horizons on the types of food you're eating! Find shortcuts for cooking & meal prep so it doesn't feel like a chore being in the kitchen. Actually take the time to relax and enjoy your meals.
From a fitness perspective, block time in your calendar at the beginning of each week like you would a business meeting. Don't allow yourself to miss it! If you're getting bored or burned out with your current workout, try a new class, ask a trainer for new fitness ideas, or come see me and I'll work with you to create a new, rewarding program!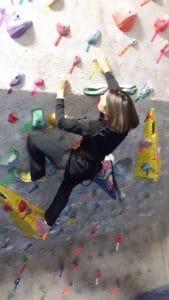 What personal advice do you give someone who is looking to get to a healthier point in their life in general?
Eat clean. Move often. Hydrate. Sleep sound. Think positively. Love yourself.
---
Have you worked out with or gotten nutrition advice from Kaitlin Wille? Tell us about your experience, or perhaps your own personal health & fitness story!
[maxbutton id="12″ ]
SaveSave
SaveSaveSaveSave
SaveSave
SaveSaveSaveSaveSaveSaveSaveSave
SaveSave
SaveSave
SaveSave
SaveSave
SaveSave