Well we've said goodbye to 2015 and hello to 2016! This is the time of year where we look back at our accomplishments from the previous year, and make note of all we have learned along the way. So, in light of that, here's our top 10 blog articles from the past year.
Did you know that those who work desk jobs are more likely to lose muscle tone, experience back pain, gain weight, and suffer from high amounts of stress? People who have sitting jobs are 2x more likely to get cardiovascular disease, they only burn one calorie per minute, and the enzymes that help break down fat drops 90 percent! Sitting has become the silent killer.
We understand that working a desk job could be completely out of your control. But there are things you can do to improve your health while being at the office.
These tips will keep you happy, healthy, and fit even at the most demanding of desk jobs!
---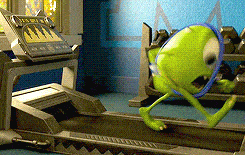 Running on the treadmill, especially for those who are just starting a running routine, can be a pretty daunting process. But there are a few things we can all relate with when it comes to the treadmill!
Here are 21 things that happen to all of us, at some point, while attempting a treadmill workout…
---

Getting yourself to the gym requires motivation, but believe it or not, what you wear plays a big part in your success. Baggy sweats and cotton T-shirts may be comfortable, but are usually the wrong choice for the gym. Choosing the right workout clothes and accessories, on the other hand, can wick away sweat, smell less, display movements clearly, and protect sensitive skin. Before you lace up your old sneakers or pull on your college t-shirt, let's figure out what NOT to wear to the gym!
---

After you see how easy it is to make these homemade granola bars, you'll never buy a box from the store again! They're loaded with protein and perfect for breakfast on the go or even a midday snack.
---

Oh to be healthy. While we all strive to be healthy, getting into a healthy groove can prove to be challenging. People are busy and it's hard to adapt habits that accommodate a healthy lifestyle, especially when we are always on the go.
It can also be especially frustrating to know where to start when it comes to being healthy. Do you diet? Do you exercise more? Do you need to meditate? Have no fear, Elite is here. With 10 habits of healthy people.
---

Tina Horner is a real success story at the club. She had never worked out or been active in her life. OH yeah, did I mention she is 50? Never worked out in her life!
Now she is playing tennis, working with a trainer, and doing daily workouts. She is already 50lbs down since she started with Elite in October and inching closer and closer to her goal weight of 150. She is not great at tennis…yet…but swears she will be giving seasoned players a run for their money soon.
---

When it comes to being ready for a last minute dinner, a frozen pizza could be your best friend. Just because you are taking a shortcut, doesn't mean you have to sacrifice a healthy dinner. So, here is what you should look for when buying that "store bought" frozen pizza.
---

Sometimes our busy schedules and life's unpredictable moments can't help but get in the way of our fitness routine. But just because you can't make that hour-long yoga class, you can still see positive results from doing 10-15 minutes of yoga moves every day.
Remember, there is no finish line in our health and wellness journey. Every little bit counts! Yoga is an amazing way to wake up your body and get your energy flowing. Here are 7 yoga moves and stretches you should do every day for the rest of your life!
---

Watts. It is that number that you often see scroll across your display on the exercise bike or elliptical. It changes all the time, and you might not realize what you are doing or not doing to make it change. But what does that number even mean, and is it important to your workout?
---

Do you want to break some bad habits or start fresh with some good ones? Let's be honest, most of us do. Regardless, tracking habits can help you to see a pattern and change your behavior. A great way to do this is by using habit tracking apps. They track your progress using statistics, send you reminders and allow you to see what you are doing well and what you need to improve on. Here is a brief overview of 4 free habit trackers. Take the time to explore them and select the one that works best for you.
---
We're looking forward to another great year here at Elite Sports Clubs, continuing to offer you the information and programs you need to accomplish your goals. If you have any suggestions for blog articles or topics for this year, please share them in the comments! Happy New Year!