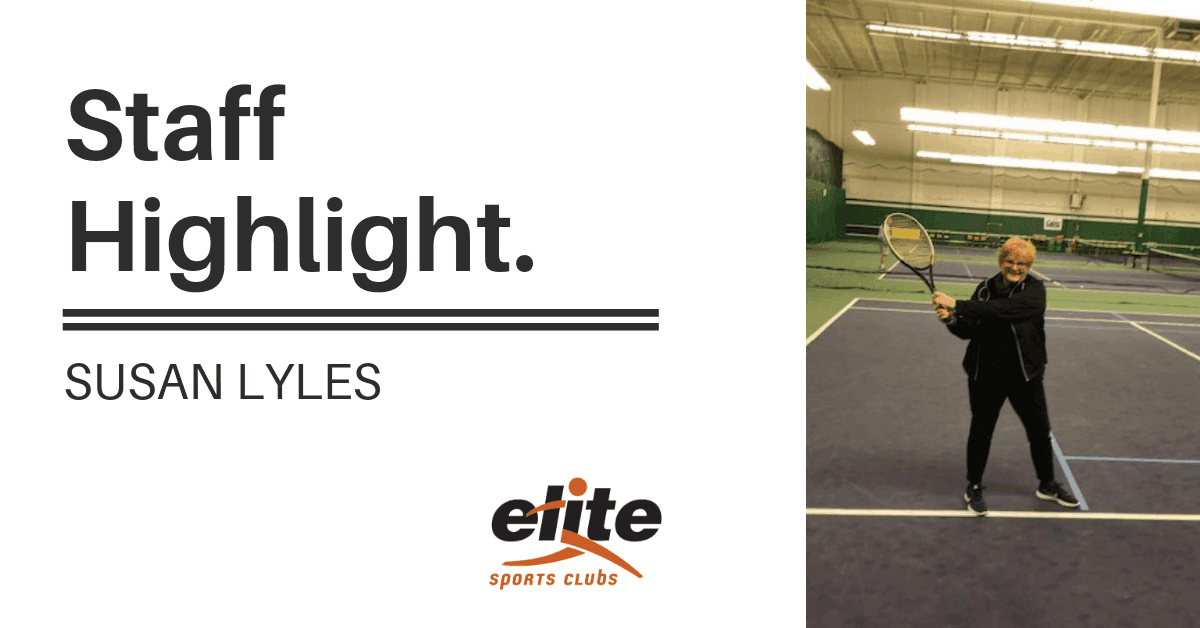 Get to Know Susan Lyles
What position(s) do you currently hold at Elite and any you have held in the past?
I'm currently a Front Desk Customer Specialist at Elite-North Shore.
How long have you been working in the health/fitness/tennis industry and how long have you worked at Elite?
I started at Elite in September of 2018.
What made you want to start working in this industry and/or for Elite?
I love tennis and want to have more health and wellness in my life. So, I wanted to immerse myself in the best place to enjoy those opportunities.
What is your favorite part about your job?
Being surrounded by people who want to also enjoy the same opportunities in life.
What activities do you participate in at the club or outside of the club that are health/fitness/tennis related?
Tennis, biking, hiking, canoeing, meditation, acupuncture, and massage.
What has been your biggest personal struggle with health/fitness/tennis?
Forming the habits that lead to a healthy lifestyle.
What has been your biggest personal accomplishment with health/fitness/tennis?
Making the decision to be a part of community of people that share the same values of health and wellness as a lifestyle.
What advice do you give people who are coming to the club for the first time?
Ask for help or reach out to any of the professionals to learn about all the great experiences at the club, or just to connect with someone else that has similar interests.
What advice do you give people who are struggling to make health/fitness/tennis a priority or are getting bored/burned out?
Try something new that you would never have thought you would or could do.
What personal advice do you give someone who is looking to get to a healthier point in their life in general?
Never stop trying. Every day is another chance to get to the next step!
---
Have you interacted with Susan Lyles at the front desk? Tell us about your club experience, or perhaps your own personal health & fitness story!
Share Your Story!
SaveSave
SaveSaveSaveSave
SaveSave
SaveSaveSaveSaveSaveSaveSaveSave
SaveSave
SaveSave