Meet Brett Kirmse, the new membership services representative at Elite Sports Club-West Brookfield. Although he is new to our staff, Brett has had positive experiences at the clubs before and now he wants to deliver those to new and existing members. Get to know more about Brett Kirmse in this staff highlight!
Get to Know Brett Kirmse
What position(s) do you currently hold at Elite and any you have held in the past?
I'm a membership services representative at Elite-West Brookfield.
How long have you been working in the health/fitness/tennis industry and how long have you worked at Elite?
I started at Elite in October 2020. This is my first time working in the health and fitness industry.
What made you want to start working in this industry and/or for Elite?
I had experiences visiting the Elite Clubs through high school while playing tennis. Those visits stuck with me and had me interested when the opportunity became available!
What is your favorite part about your job?
I enjoy the energy the West Brookfield staff and members bring on a daily basis!
What activities do you participate in at the club or outside of the club that are health/fitness/tennis related?
I play tennis and enjoy hiking outside of the club. So far at the club, I have played pickleball and paddle tennis. I am looking forward to playing basketball and tennis here in the near future.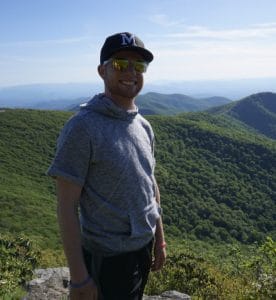 What has been your biggest personal struggle with health/fitness/tennis?
I would say my biggest struggle is just nagging injuries with my ankles. It makes it very important to me to do maintenance workouts that keep my body in good shape.
What has been your biggest personal accomplishment with health/fitness/tennis?
Staying healthy! I have not had any major muscle tears or bone breaks since grade school.
What advice do you give people who are coming to the club for the first time?
Be willing to ask questions! Our staff is here to help and this is a safe space as no one should be intimidated by a health club.
What advice do you give people who are struggling to make health/fitness/tennis a priority or are getting bored/burned out?
When it comes to burnout, I always recommend a rest week. Sometimes we need a week to just get away and recharge.
What personal advice do you give someone who is looking to get to a healthier point in their life in general?
Read up on what you are looking to achieve. There are tons of resources available online, like the Elite blog, to make sure you can reach your goals!
---
We love to tell stories about our staff and our members. If you have a story to share, tell us all about it and we'll share it on our blog!
Share Your Story!
SaveSave
SaveSaveSaveSave
SaveSave
SaveSaveSaveSaveSaveSaveSaveSave
SaveSave
SaveSave